Quartz crystals are natural modulators, transmitters, and containers of the Universal Life Force. As they are grown within the earth, they take on a unique shape and often gather inclusions of other minerals that affect their abilities to modify, store, and transmit the Life Force.
In this index we offer here a constantly updated and every growing but always seemingly incomplete listing of quartz. This index includes quartz shapes, inclusions, and crystal arrangements, along with their generally accepted definitions and metaphysical properties. .
RESOURCES

Websites
Books
The Buyer's Guide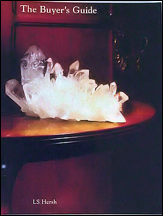 The Buyer's Guide
Hersh, L. S.
Montgomery Crystal, 2001)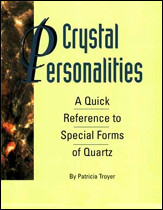 Crystal Personalities
Troyer, Patricia
(Stone People Publishing, 1995)
NOTES:
The metaphysical properties of the shapes are those based on the shape of the crystals, their relationships to other crystals, the properties of their inclusions, or the commonly accepted uses by crystal healers and practitioners. Be aware however, that the metaphysical properties are not necessarily consistent with every book or article you might read. Keep an open mind.
There are many viewpoints in the world, and you must sift through them to find your truth. What is right for one person, is not necessarily what is best for another. Also, be aware that a crystal formation may well be good for something for most people, but others may have discovered new energies and uses.
For example, a cabinetmaker may well see a screwdriver as a tool used to install and remove screws. He or she is right. However, a painter may see it as an excellent paint can opener. Both are right. The list is a starting point on your voyage of discovery.