Your On-Line Guide to
The Healing Energies, Metaphysical Properties,
Legendary Uses and Meaning
of
Aegirine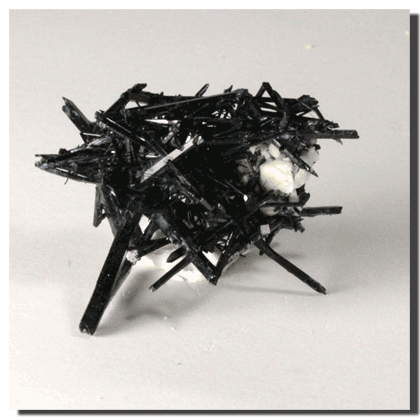 Introduction to the Meaning and Uses of Aegirine
The beautiful, black blades of Aegirine rise from its host rock like the legendary Sword in the Stone waiting for someone to draw upon its power to make all things right. A Stone of Integrity and Self, Aegirine is a most noble crystal, aligning with one's truest convictions in life and providing the courage and confidence to follow those convictions. It encourages acceptance of self and others, and to follow the heart.
With its connection to the earth and the natural world, Aegirine activates a strong, protective energy, guarding the aura and physical body, as well as fortifying the Spirit in times of difficulty. It eliminates negative thoughts, energies and attachments, and replaces them with the Light of the positive. It promotes wholeness and healing.
Aegirine is a member of the Pyroxene group, a sodium iron silicate that forms as long, prismatic crystals often terminated by a steep asymmetrical pyramid. It may also form as compact and fibrous disseminated grains. Opaque to translucent, it is dark in color, most often black, though sometimes greenish-black or brownish-black, and is commonly found in alkali-rich volcanic rock. Discovered in Norway, Aegirine is named for the Norse god of the sea, Aegir, and is also known as Acmite, from the Greek word meaning "point." [www.galleries.com][Simmons, 4]
Aegirine Uses and Purposes - Overview
Aegirine is a good crystal for overcoming self-consciousness and unnecessary shame over appearance, and is an excellent companion for those with disfigurement or body image problems. [Eason, 192]
A very female-friendly crystal, Aegirine assists women in overcoming hidden prejudice in the workplace, and lends emotional support when returning from maternity leave. [Eason, 192]
It is an excellent crystal for doctors, nurses or others who are continually exposed to the toxic energies of traditional hospital environments, and shields those in home office and workplace settings when constantly exposed to the electromagnetic fields of computers and electronics. [Ahsian, 5-6]
Aegirine expands the power of other stones in all healing situations by boosting the body's own ability to self-heal. [Hall II, 41][Melody, 81]
Aegirine is a powerful protector of those suffering jealousy, malice, mental influence or psychic attack from others. Use once a week as a wand in the hand you write with to thrust energies away from you in all directions as you state your intent of protection. [Eason, 192][Melody, 81][Hall II, 40]
Carrying or wearing Aegirine helps force the release of negative attachments that may have taken root in the aura's protective field weakened by abuse of alcohol or drugs, or by smoking cigarettes (though the effect is more gradual). Working with Aegirine in body layouts or in conjunction with other subtle body healing can, in time, regenerate the damaged auric shield. [Simmons, 5]
Take Aegirine on journeys of self-discovery, whether spiritual or traveling to new destinations. It is a good talisman for backpackers for protection against negative energies and inhospitable places and people. [Eason, 192]


Aegirine Healing Therapies - Overview
(Please note: Information on this web site is no substitute for consulting a health care professional. All information contained on this web site,
including information relating to medical and health conditions, products and treatments, is for informational purposes only.
Please see your doctor or health care professional before starting any alternative treatments, diets, supplements or exercise programs.)
Aegirine Physical Healing Energy
Aergirine assists the body in processing and eliminating toxins, and boosts the immune, metabolic and nervous systems. It is particularly supportive of the liver, spleen and gallbladder. It is an excellent crystal for generating physical energy and stamina, and in recovery from illness or injury. [Ahsian, 6][Eason, 192][Hall II, 41]
Aegirine supports the nerves, muscles and bones, and is useful in overcoming muscle pain and backaches. [Gienger, 6][Hall II, 41]
Aegirine is a beneficial stone in Reiki or other energy-transference healing systems using the power of touch. [Eason, 192]
Aegirine Emotional Healing Energy
Aegirine provides an important ally in overcoming unhappiness, depression or hopelessness by dissolving negative emotional patterns and attitudes caused by blame, shame, guilt, worthlessness or self-pity. It generates positive thoughts to replace the toxic ones and helps to heal the emotional body, providing an acceptance of what cannot be changed and the acceptance of self and others as they are. It allows one to view the bigger picture in life and encourages following one's own truth without the need to conform to group pressure or the ideals of others. [Ahsian, 5][Eason, 192][Hall II, 41]
Aegirine assists in healing relationship problems, and helps transform grief after betrayal, separation or loss. [Gienger, 6][Eason, 192][Hall II, 41]
Aegirine Chakra Healing and Balancing Energy
Aegirine activates the Base, or Root Chakra, located at the base of the spine, and controls the energy for kinesthetic feeling and movement. It is the foundation of physical and spiritual energy for the body. When physically out of balance the symptoms will manifest themselves as lethargy, low levels of activity, low enthusiasm, and a need for constant stimulation. When its spiritual energies are out of balance, you will feel flighty, disconnected from reality, and distant. When the Base Chakra is in balance, the physical body regains its strength and stamina, and the spiritual energy is rekindled in the form of security and sense of one's own power. It often leads to independence and spontaneous leadership.
Aegirine may also be used in awakening the Kundalini energy, and can help stabilize the energy fields as one moves through a Kundalini activation. [Ahsian, 5]

Aegirine Spiritual Energy
Aegirine generates and focuses energy for personal and environmental healing, reflecting the knowledge that Light is the healer of darkness. It nourishes self-esteem and integrity, and empowers one to live and express that truth out into the world. It promotes sincerity and virtue, and carries the energies of enlightened action, karmic understanding and spiritual commitment. [Simmons, 5][Hall II, 40][Ahsian, 5][Gienger, 6]

Aegirine Color Energy
Black color energy deepens our connection to the physical, natural world. It brings power and strength, relieving fears specifically associated with the physical existence here on Earth. Black Aegirine offers protection and a retreat, the safety of being hidden from your enemies.

Meditation with Aegirine
Aegirine hasd the ability to aid in meditations in which you are seeking to understand how your darkest thoughts can be realigned into positive aspirations.

Aegirine Divination
he divinatory meaning of Aegirine: Someone is trying to make you feel inadequate or guilty to offload their own insecurities and hang-ups, so do not accept blame or guilt. [Eason, 192]

Aegirine and the Angelic Realm
If your birthday falls in any of the following periods, an Aegirine can be a valuable conduit to your Guardian Angel. The table also provides the name of the Guardian Angel of those born in the time period.
| Date | Crystal Color | Name of Guardian Angel |
| --- | --- | --- |
| March 11-15 | Black | Haiaiel (Hajael) |
| May 1-5 | Black | Haziel |
| May 16-20 | Black | Hahaiah (Hahajah) |
| August 29-September 2 | Black | Vasiariah |
| November 3-7 | Black | Sealiah |
There are other Angels that are partial to Aegirine. The table below gives you the information about them.
| Purpose | Crystal Color | Name of Angel |
| --- | --- | --- |
| Protector and Ruler of the dates May16-20; Taurus. | Black | Hahaiah |
| Protector and Ruler of the dates March 11-15; Pisces. | Black | Haiaiel |
| Protector and Ruler of the dates May 1-5; Taurus. | Black | Haziel |
| Protector and Ruler of the dates November 3-7; Scorpio. | Black | Sealiah |
| Master of the 9th Tarot Card "The Hermit". | Black | Shelathiel |
| Protector and Ruler of the dates August 29-September 2; Virgo. | Black | Vasiariah |

Aegirine Goddess Crystals
As a black stone, Aegirine may be used to honor Manat, the Arabian Goddess of Time, Destiny and Death. She is honored because time brings us all a transition we call death, but in life she can bring a world filled with magic, wisdom and protection.
Black crystals also honor Cybele, the Roman Earth Goddess and Modern Goddess of Spring Break. She is the Earth Mother and embodies the fertile Earth. Her festival is the first on the Roman calendar, the Festival of Joy.

Birthstones

There are several ways to find an appropriate birthstone. The traditional one is listed first. These are from the popular lists that most people are familiar with. The second way is to find your natural birthstone by the color wheel of life. You can click on the Natural Birthstone graphic below to learn more. Finally many people use the traditional stones of the Zodiac.
In this section you will find information on all three approaches.
Aegirine Traditional Birthstone
Aegirine is not a traditional birthstone.
Aegirine Natural Birthstone.
Aegirine is not a natural birthstone.
Aegirine - Zodiac Stone of Taurus
Aegirine is associated with the sign of Taurus, those born in the heart of spring from April 20 - May 20. Taurus is depicted as a bull because of its characteristics of being strong but quiet, and is ruled by the planet Venus that also rules Libra. Taureans are known for being "down to Earth," the doers and the realists. They are affectionate, known for their tempers and very stubborn.


Aegirine Amulets and Talismans
Aegirine is a Guardian Harmonizer crystal. The Guardian talismans do not reveal their inner strength. These stones rarely, if ever, form transparent crystals. Rather, they hide their strength behind an opaque mask, obscuring the power they possess. In the physical world they are fantastic amulets for protecting your loved ones, your possessions, and your physical security. In the spiritual world, Guardian crystals serve to guard your beliefs against doubt, helping you keep true to your ideals and reinforcing your strength of character. The Guardian crystals can also protect your spirits during trying and difficult times.
Harmonizers, called the chain and band silicates, bind together in a long chain, distributing energy in a balanced, long-term way. They encourage efforts aimed at smoothing a path through difficulties, promoting harmonious relationships within a larger group, like family, and a peaceful acceptance of life's inherent situations.

Aegirine Feng Shui
Aegirine utilizes Water Energy, the energy of stillness, quiet strength, and purification. It embodies potentialities unrealized. It is yielding, formless, yet powerful. The Water element brings power of regeneration and rebirth. It is the energy of the circle of life. Use black crystals to enhance any space that you use for repose, calm reflection, or prayer. Water energy is traditionally associated with the North area of a home or room. It is associated with the Career and Life Path area, its flowing energy assuring a balance of energy as your life unfolds and flows.

Aegirine in Ancient Lore and Legend
While named for an ancient god, Aegir, there is no ancient lore about this stone.

Footnote References
The symbols [ ] enclose the author's name and a page number for a reference cited from the following books:
[Ahsian, pp.] Robert Simmons & Naisha Ahsian, The Book of Stones (Berkley, CA: North Atlantic Books, 2007).
[Eason, pp. ]Cassandra Eason, The New Crystal Bible (London: Carlton Books Ltd., 2010).
[Fernie, pp.] William T. Fernie, The Occult and Curative Powers of Precious Stones (Blauvelt, NY: Rudolph Steiner Publications, 1973).
[Gienger, pp.] Michael Gienger, Healing Crystals (Scotland: Earthdancer Books, 2009).
[Hall, pp.] Judy Hall, The Crystal Bible (Cincinnati, OH: Walking Stick Press, 2003).
[Hall 2, pp.]Judy Hall, The Crystal Bible 2 (Cincinnati, OH: Walking Stick Press, 2009).
[Kunz, pp.] George Frederick Kunz, The Curious Lore of Precious Stones (New York: Dover Publications, 1971).
[Megemont, pp.] Florence Megemont, The Metaphysical Book of Gems and Crystals (Rochester, VT: Healing Arts Press, 2008).
[Mella, pp.] Dorothee L. Mella, Stone Power II (Albuquerque, NM: Brotherhood of Life, Inc., 1986).
[Melody, pp.] Melody, Love Is In The Earth (Wheat Ridge, CO: Earth-Love Publishing House, 1995).
[Raphaell, pp.] Katrina Raphaell, Crystal Enlightenment (Santa Fe, NM: Aurora Press, 1985)
[Simmons, pp.] Robert Simmons & Naisha Ahsian, The Book of Stones (Berkley, CA: North Atlantic Books, 2007).