Dalmatian Stone Healing Properties, Meanings, and Uses

Your On-Line Guide to
The Healing Energies, Metaphysical Properties,
Legendary Uses and Meaning
of
Dalmatian Stone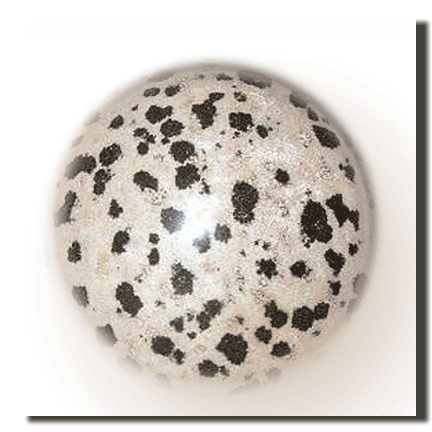 Introduction to the Meaning and Uses of Dalmation Stone

The Dalmatian Stone appeals to the child within us all, fortifying the spirit and encouraging a sense of playfulness. It is particularly beneficial for those who are overly analytical, returning some of the intellectual carefulness back into the physical joy of simply being. It has a grounding energy, supportive of family and loyalty, and has a calming influence for children and animals.
Dalmatian Stone, also called Dalmatian Jasper, is pale gray, cream or beige-brown Jasper with black or brown spots of iron oxide, tourmaline, or other mineral inclusions that resemble the coat of a Dalmatian breed of dog. Known for its protective and healing properties, this mineral's vibrational energy is slow, though quite effective, and should be used long term.
Dalmatian Stone Uses and Purposes – Overview
The determination within Dalmatian Stone encourages one to carefully think over plans for any project, reflecting on every phase of development, and then to translate the ideas into actuality with enthusiasm and vigor. It is an excellent talisman for the early stages of setting up a business or solo venture. [Gienger, 33][Eason, 300]
An excellent anti-smoking crystal, Dalmatian Stone strengthens the resolve to quit smoking and provides the determination needed to succeed. [Hall II, 112][Crystalwellbeing.co.uk]
Dalmatian Stone encourages fidelity and emotional harmony, strengthening family bonds and long-term friendships. It encourages team effort and cooperation at work. [Eason, 300]
Children benefit on all levels from this beautiful stone, particularly at night to assure safe sleep and in preventing dreams of monsters and other nightmares. [Hall II, 113][Eason, 300]
As a Jasper whose properties reflect its appearance, Dalmatian Stone is remarkably successful for calming, training and healing pets, especially dogs. It is the perfect crystal to assist in turning your love of dogs into a profession, such as breeder, trainer, or handler in any field, and for those who rescue injured or abandoned animals. It also assists in the ability to overcome an irrational fear of dogs. [Eason, 300]


Dalmatian Stone Healing Therapies – Overview
(Please note: Information on this web site is no substitute for consulting a health care professional. All information contained on this web site,
including information relating to medical and health conditions, products and treatments, is for informational purposes only.
Please see your doctor or health care professional before starting any alternative treatments, diets, supplements or exercise programs.)
Dalmatian Stone Physical Healing Energy
Dalmatian Stone stimulates the nerves and reflex actions, and is beneficial to the muscles, tendons and cartilage. It also helps prevent strains, sprains and muscle spasms. [Gienger, 33][Hall II, 113][Eason, 300]
It is thought to boost the immune system and remove toxins, and to assist with bowel disorders, particularly IBS and constipation. It is also useful in the treatment of skin problems and allergic rashes. [Eason, 300]
Dalmatian Stone Emotional Healing Energy
If life has become burdensome and all sense of joy seems to be lost, wearing or carrying a Dalmatian Stone can reawaken a sense of fun and humor. It has a fortifying, restorative and emotionally harmonizing effect, counteracting disillusion, cynicism and skepticism. Its Tourmaline inclusions quickly dissipate negative energy and outworn patterns, moving you forward in life. [Gienger, 33][Eason, 300][Hall II, 112-113]
Dalmatian Stone Chakra Healing and Balancing Energy
Dalmatian Stone opens the Base, Sacral and Earth Chakras, grounding and assisting one in coming to terms joyfully with being in incarnation. [Hall II, 112]
The Base, or Root Chakra, is located at the base of the spine, and controls the energy for kinesthetic feeling and movement. It is the foundation of physical and spiritual energy for the body. When the Base Chakra is in balance, the physical body gains strength and stamina, and spiritual energy is rekindled in the form of security and sense of one's own power. It often leads to independence and spontaneous leadership.
The Sacral Chakra, or Second Chakra, is located below the naval and above the pubic bone at the front of the pelvis. It controls the flow of energy and is the center of gravity and Life Force of the body.
The Earth Chakra is located between and slightly below the feet. It holds the soul into carnation and creates a solid connection to the planet Earth, allowing excess and out-of-balance energies to flow from the body.

Dalmatian Stone Spiritual Energy
Dalmatian Stone strengthens the spirit and provides a physicality to the soul. It reminds us we are spiritual beings on a human journey and to joyfully embrace our incarnation while we are here. [Hall II, 112]

Dalmatian Stone Color Energy
Dalmatian Stone embodies the rich, brown rays of the natural earth. It is the color influence of home, hearth, and nature, of comfort and connection. It lets you relax, reconnect, and regain your composure. It is a grounding stone. Brown crystals promote security and stability.
The black spots have a definite influence in this stone. Their energy deepens our connection to the physical, natural world. It brings power and strength, relieving fears specifically associated with the physical existence here on Earth. Dalmatian Stone offers protection and a retreat, the safety of being hidden from your enemies.

Meditation with Dalmatian Stone
There is no specific meditation info on this stone.

Dalmatian Stone Divination
The Divinatory meaning of Dalmatian Stone: A fun relationship may be turning into something more permanent. To succeed, remember to keep the fun side active. [Eason, 300]

Dalmatian Stone and the Angelic Realm
Dalmatian Stone varies in shades of browns and black. If your birthday falls in any of the following periods, a Dalmatian Stone of the color listed can be a valuable conduit to your Guardian Angel. The table also provides the name of the Guardian Angel of those born in the time period.
| Date | Crystal Color | Name of Guardian Angel |
| --- | --- | --- |
| February 5-9 | Brown | Mehiel |
| February 10-14 | Brown | Damabiah |
| March 11-15 | Black | Haiaiel (Hajael) |
| May 1-5 | Black | Haziel |
| May 16-20 | Black | Hahaiah (Hahajah) |
| August 29-September 2 | Black | Vasiariah |
| October 4-8 | Brown | Rehael |
| November 3-7 | Black | Sealiah |
There are other Angels that are partial to Dalmatian Stone. The table below gives you the information about them.
| Purpose | Crystal Color | Name of Angel |
| --- | --- | --- |
| Protector and Ruler of the dates May16-20; Taurus. | Black | Hahaiah |
| Protector and Ruler of the dates March 11-15; Pisces. | Black | Haiaiel |
| Protector and Ruler of the dates May 1-5; Taurus. | Black | Haziel |
| Protector and Ruler of the dates November 3-7; Scorpio. | Black | Sealiah |
| Master of the 9th Tarot Card "The Hermit". | Black | Shelathiel |
| Protector and Ruler of the dates August 29-September 2; Virgo. | Black | Vasiariah |
| Angel of Grace | Brown | Ananchel |
| Ruler of Earth/Lightning and the Angel of Chance and Luck. | Brown | Baraqiel |
| Protector and Ruler of the dates February 10-14; Aquarius. | Brown | Damabiah |
| Protector and Ruler of the dates February 5-9; Aquarius. | Brown | Mehiel |
| Protector and Ruler of the dates October 4-8; Libra. | Brown | Rehael |
| Master of the 15th Tarot Card "Devil". | Brown | Samaqiel |

Dalmatian Stone Goddess Crystals
Dalmatian Stone may be used to honor Gaia, the Greek Earth Mother Goddess. Born directly out of Chaos, the primal emptiness, she was the first (or one of the first) beings to appear during the process of creation, and is honored as being the Earth itself.
Dalmatian Stone may also be used to honor Diana, Roman Goddess of the Moon and Protector of Animals.

Birthstones

There are several ways to find an appropriate birthstone. The traditional one is listed first. These are from the popular lists that most people are familiar with. The second way is to find your natural birthstone by the color wheel of life. You can click on the Natural Birthstone graphic below to learn more. Finally many people use the traditional stones of the Zodiac.
In this section you will find information on all three approaches.
Dalmatian Stone Traditional Birthstone
Dalmatian Stone is not a traditional birthstone
Dalmatian Stone Natural Birthstone.
Dalmatian Stone is not a natural birthstone.
Dalmatian Stone – Not a Zodiac Stone
Dalmatian Stone is not associated with any sign of the Zodiac.

Dalmatian Stone Amulets and Talismans
Dalmatian Stone is a Seeker Transformer crystal. Seekers contain a crystal energy structure that aligns the natural energy of the crystal to the natural power of the human mind to find the way to new horizons and new capabilities. They're pointers, directors, and compasses; the fresh start crystals. These are talismans of the scientist, the adventurer, the hunter, wanderer, and explorer. They're also crystals of the student and the researcher.
Transformer crystals enhance efforts to change our situations, prospects, health, outlook or relationships. By transforming ourselves we transform our lives. We learn to dance, speak a new language, grow stronger, or become a better spouse or child. Seeker crystals with the earth power of the Transformer are excellent talismans to aid our efforts to grow, develop new capabilities and change our lives.

Dalmatian Stone Feng Shui
Dalmatian Stone utilizes Earth energy, the light brown energy of stability, patience, honesty, balance, and resourcefulness. It is our home energy, the energy of the ground upon which we live, the mountains, plains, shores, and valleys. It is our holdfast in the black cold universe. Use light brown crystals to enhance any space that is a resting place, where you need to be firmly in control, safe, and protected. Earth energy is traditionally associated with the Northeast and Southwest areas of a home or room. These are the Skills and Knowledge area, and the Love and Relationship area. Crystals, clusters of light brown crystals, or small colored crystals on brown rock work well.

Dalmatian Stone in Ancient Lore and Legend
There is no legendary information on this stone.

Footnote References
The symbols [ ] enclose the author's name and a page number for a reference cited from the following books:
[Ahsian, pp.] Robert Simmons & Naisha Ahsian, The Book of Stones (Berkley, CA: North Atlantic Books, 2007).
[Eason, pp. ]Cassandra Eason, The New Crystal Bible (London: Carlton Books Ltd., 2010).
[Fernie, pp.] William T. Fernie, The Occult and Curative Powers of Precious Stones (Blauvelt, NY: Rudolph Steiner Publications, 1973).
[Gienger, pp.] Michael Gienger, Healing Crystals (Scotland: Earthdancer Books, 2009).
[Hall, pp.] Judy Hall, The Crystal Bible (Cincinnati, OH: Walking Stick Press, 2003).
[Hall 2, pp.]Judy Hall, The Crystal Bible 2 (Cincinnati, OH: Walking Stick Press, 2009).
[Kunz, pp.] George Frederick Kunz, The Curious Lore of Precious Stones (New York: Dover Publications, 1971).
[Megemont, pp.] Florence Megemont, The Metaphysical Book of Gems and Crystals (Rochester, VT: Healing Arts Press, 2008).
[Mella, pp.] Dorothee L. Mella, Stone Power II (Albuquerque, NM: Brotherhood of Life, Inc., 1986).
[Melody, pp.] Melody, Love Is In The Earth (Wheat Ridge, CO: Earth-Love Publishing House, 1995).
[Raphaell, pp.] Katrina Raphaell, Crystal Enlightenment (Santa Fe, NM: Aurora Press, 1985)
[Simmons, pp.] Robert Simmons & Naisha Ahsian, The Book of Stones (Berkley, CA: North Atlantic Books, 2007).