Your On-Line Guide to
The Healing Energies, Metaphysical Properties,
Legendary Uses and Meaning
of
Pyrite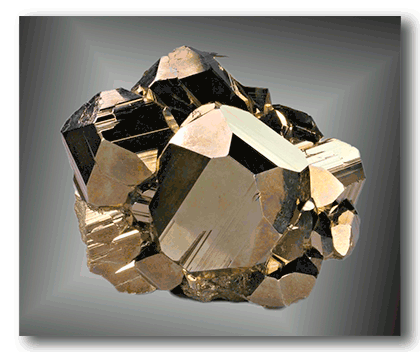 Introduction to the Meaning and Uses of Pyrite
Pyrite is often called "Fool's Gold," though there is nothing foolish about this mineral. Within its gleaming beauty is a stone of hidden fire, one that can be sparked to life by striking it against metal or stone. An Earth element, it also resonates with Fire energy, symbolizing the warmth and lasting presence of the sun and the ability to generate wealth by one's own power. It is masculine in nature, a stone of action, vitality and will, and taps into one's abilities and potential, stimulating the flow of ideas. It brings confidence and the persistence to carry things through to completion. [Eason, 180][Megemont, 150][Melody, 498][Simmons, 314-315][Ahsian, 315]
As a talisman, Pyrite is a unique protector, drawing energy from the Earth through the physical body and into the aura creating a defensive shield against negative energies, environmental pollutants, emotional attack and physical harm. It also supports one with a spirit of boldness and assertive action when protecting others, the planet, or in standing up for important issues of community. It stimulates the Second and Third Chakras, enhancing will power and the ability to see behind facades to what is real. [Melody, 497][Hall, 149][Simmons, 315][Ahsian, 315]
An iron sulfide mineral, Pyrite is commonly found around the world in a variety of geological formations, from sedimentary deposits to hydrothermal veins, and as a constituent of metamorphic rocks. It forms in masses, stalactites, grains, globes, striated cubes or twelve-sided pentagonal dodecahedral crystals. It also forms as flat, radial disks called "suns" or "dollars." It is usually pale brassy-yellow in color, opaque, with a strong gold-like metallic luster, though some forms oxidize in moist environments and may be a darker brownish-gold. The name Pyrite derives from the Greek pyr or pyros, meaning "fire" for its ability to emit sparks when pieces are struck together or against a hard surface. [www.mindat.org][Simmons, 314][Melody, 497][Megemont, 150]
Pyrite is most noted for its nickname, "Fool's Gold," the glittering rock notoriously mistaken by naïve prospectors as real gold. It was also used by dishonest mine owners to salt their mines for the purpose of convincing people they were still gold-producers. Although similar in hue, Pyrite is lighter in color than Gold, and is harder and more brittle. It can't be scratched with a fingernail or knife. Pyrite is also referred to as Iron Pyrite, and in Germany, "Cat's Gold." [Megemont, 151][www.mindat.org][Eason, 180]
Pyrite was highly prized by the native Indian tribes of the Americas as a healing stone of magic, and was polished into mirrors for gazing and divination. Before the 1800's, it was favored as a decorative stone, carved into rosettes, shoe buckles, rings, snuff boxes and other ornaments, and was extremely popular in England during the Victorian Age for its use in jewelry. Pyrite's biggest use occurred during World War II when it was mined as a source of Sulfur for producing sulfuric acid used in industry. [glimmerdream.com][www.ross-simmons.com][www.controverscial.com]
Warning: Do not ingest this mineral. Use only the indirect method for preparing elixirs. (See our Elixir page for directions.)
Pyrite Uses and Purposes
Pyrite is a protective, shielding stone and is excellent to wear or carry as an amulet to deflect harm and danger. It is especially helpful when one is away from home or performing hazardous work. [Melody, 497][Hall, 149][Eason, 180]
Pyrite guards against ongoing control, criticism and manipulation by a partner, parent or employer, lending the power to resist without becoming angry or upset, changing the balance of power. [Eason, 180]
A piece of Pyrite in the home or workplace energizes the area around it and imparts an immediate increase in vitality. It overcomes intellectual fatigue due to overwork and tiredness of the nervous system by stimulating blood flow to the brain, increasing mental clarity, focus and recall. [Hall, 149][Simmons, 314][Megemont, 151][Melody, 498]
Pyrite inspires creativity in art, mathematics, science, architecture and many disciplines, especially those that recognize the inherent perfection and harmonious symmetry of nature and the universe. It stirs the qualities of ambition, commitment and perseverance, and is an ideal stone for students. [Simmons, 315][Melody, 498]
In the workplace, Pyrite encourages leadership qualities and is an ally for managers and those working toward promotion. [Eason, 180]
Pyrite enhances the protective and assertive male energies in both men and women. It boosts women's self-worth and helps overcome tendencies toward servitude and inferiority. For men, it instills a feeling of confidence in one's masculinity and supports the enthusiastic expression of male eroticism. [Simmons, 315][Hall, 150]


Pyrite Healing Therapies – Overview
(Please note: Information on this web site is no substitute for consulting a health care professional. All information contained on this web site, including information relating to medical and health conditions, products and treatments, is for informational purposes only. Please see your doctor or health care professional before starting any alternative treatments, diets, supplements or exercise programs.)
Pyrite Physical Healing Energy
Pyrite supports the ideal of perfect health and well-being, drawing on universal energies to activate the nourishing energies of the body. In healing it often gets fast results, and can be beneficial in cases where no resolution seems possible. It is known for bringing out the cause of diseases for examination, and is helpful in getting to the root of karmic and psychosomatic dis-ease. [Melody, 498][Hall, 150][Megemont, 151][Gienger, 72]
This mineral shields the body from environmental pollutants, as well as contagious diseases. It may be useful in fighting colds, flu and other viruses, skin diseases and fungal infections, and may be beneficial in treatments for highly infectious diseases. It has also been used to lessen fever and reduce inflammation, and is an excellent stone of protection for caregivers and medical workers. [Melody, 498][Eason, 180][Ahsian, 315]
Pyrite increases oxygen supply to the blood and strengthens the respiratory and circulatory systems. It is beneficial to the lungs, helping to alleviate asthma and bronchitis, and may be used in treating blood disorders. It assists in treatments of the bones, both in structure and cell formation, and helps prevent and repair DNA damage. [Melody, 498][Hall, 150][Eason, 180]
Pyrite also stimulates proper endocrine function and is excellent for combating male impotence and infertility. [Ahsian, 315]
Pyrite Emotional Healing Energy
Pyrite is a crystal of positive energy, and is extremely helpful for melancholy and thoughts fixed on misfortune and despair. It relieves anxiety and frustration, and as a mirror to the self, reveals the causes behind these emotions and promotes a search for solutions. Pyrite also allows one to see beyond pretense, to what truly lies behind words and actions. It provides the insight that often things that disturb us in others are also present in us. [Hall, 150][Gienger, 72-73]
Pyrite's energy is empowering to the spirit, encouraging one to overcome fears and take action. It increases one's will to accomplish whatever tasks one sets out to do, and can be used to bring one out of one's shell, becoming more dynamic and confident. [Simmons, 315][Ahsian, 315]
Pyrite Chakra Healing and Balancing Energy
Pyrite is particularly stimulating to the Third, or Solar Plexus Chakra, the energy distribution center and the chakra of relationships. This chakra is located between the ribcage and navel, and controls the immune and digestive systems. When balanced physically, we have strength to fight infections, are free of allergic reactions, and are able to use the nutrients we ingest. When the Solar Plexus is out of balance spiritually, we feel fear – of the disappointment or displeasure of others, or to subordinating our life and pleasures to the will of others. Spiritually, when the solar plexus is in balance we are free to interpret the world through our own thoughts and emotions and not live in fear of violating the dictums of others.
Golden Pyrite also identifies with the Sacral Chakra, or Second Chakra, located below the naval and above the pubic bone at the front of the pelvis. It controls the flow of energy and is the center of gravity of the body. It is the center of the Life Force of the body, and controls the flow of information from the body to the mind and from the mind to the body. Gut feelings, intuition, and other "non-linear" communication comes from this chakra. When it is out of balance the symptoms manifest themselves as confusion, over dependency on others, repression of feelings, inability to feel joy, fear of sensuality or sex, and frustration. When the Sacral Chakra is in balance one has grace, feels pleasure in life, and experiences the flexibility to "go with the flow" and do so in good spirit.
Pyrite Spiritual Energy
Pyrite is an excellent stone of manifestation, allowing one to draw high-frequency energy into the physical body and utilizing it to take action in creating abundance for one's life. Its frequency stimulates the creative flow of ideas and concepts, and helps one embrace their innate abilities and potential. [Ahsian, 315][Hall, 149]
Pyrite can also be used in body layouts for balancing polarities and creating harmony within the aura. It should be placed on the Third Chakra, in the hands, and at the Base Chakra to anchor one's auric field firmly in the body, in proper alignment for optimal functioning of the spiritual self in the physical world. [Simmons, 315]

Pyrite Color Energy
Pyrite reflects the energy of Gold, bringing success, enthusiasm, happiness, and power. It is traditionally the color of kings, riches, and the sun. Gold touches a deep part of our minds, conjuring up images of mystical places and adventure. Light Gold crystals provide us with the simple pleasures of life – cheerfulness and contentment. Dark Gold crystals have a deeper, more pronounced sense of devotion and commitment, providing us with a mature enthusiasm and ability to share a lifelong commitment of care and love.


Holding a Pyrite in each hand during meditation can bring an instant rebalancing and refreshing burst of energy. It is also ideal for ending a meditation to bring the energy fully into the physical realm. [Simmons, 315][Ahsian, 315]

Pyrite Divination
The Divinatory meaning of Pyrite: A seeming bargain arrives at the time most needed. It could be the answer, but check carefully. [Eason, 180]

Pyrite and the Angelic Realm
There are no Guardian Angels associated with Pyrite; however, the table below gives you information about other Angels that are partial to these golden crystals.
Purpose
Crystal Color
Name of Angel
Guardian of the Fourteenth Mansion of the Moon; Virgo.
Dk. Gold
Ergediel
Risnuch helps you while Dealing with Agriculture and Animals.
Dk. Gold
Risnuch
Ruler of Earth/Wind
Dk. Gold
Ruchiel
Samael is known as the Severity Angel; Tree of Life, is the Guardian of Tuesday, and the Ruler of Mars.
Dk. Gold
Samael
Guardian of the Nineteenth Mansion of the Moon which is Scorpio.
Gold
Amutiel
Gabriel is the Foundation Angel and known as the Tree of Life. The Angel of Monday, and the Ruler of the Moon, Earth, and Lighting. Gabriel is also the Master of the 2nd Tarot Card "The High Priestess" and Tarot Card 12 "The Hanged Man". Gabriel is also the Angel of Pregnancies/Child Birth, the Angel of the North Wind, Creativity, and Truth. he is also associated with the sun sign Aquarius, and also the Guardian Fifth Mansion of the Moon; Taurus.
Gold
Gabriel
Master of the 2nd Tarot Card "The High Priestess".
Gold
Schelachel
Uriel is the Master of the 21st Tarot Card "The World". Also, he Heals Resentment and is the Ruler of the South Wind. Uriel is also known as the Angel of Music and Repentance, and is associated with the sun sign, Libra.
Gold
Uriel
Master of Tarot Card 0 "The Fool".
Lt. Gold
Chassan
Angel of the Mountains
Lt. Gold
Rampel

Pyrite Goddess Crystals
Gold crystals honor Persephone, the Greek Goddess of Spring. She represents celebration and the Earth alive with new growth.

Birthstones

There are several ways to find an appropriate birthstone. The traditional one is listed first. These are from the popular lists that most people are familiar with. The second way is to find your natural birthstone by the color wheel of life. You can click on the Natural Birthstone graphic below to learn more. Finally many people use the traditional stones of the Zodiac.
In this section you will find information on all three approaches.
Pyrite Traditional Birthstone
Pyrite is not a traditional birthstone.
Pyrite Natural Birthstone.
Pyrite which is gold in color is the natural birthstone of those born in the magical month of midsummer (July 22 – August 21). Gold crystals bring you success, enthusiasm, happiness, and power.
Pyrite – A Stone of the Sun
Pyrite is not associated with any zodiac sign.

Pyrite Talismans and Amulets
Pyrite is the talisman stone of the fire trades: bakers, blacksmiths, and firemen. It also protects those in the building trades. [Megemont, 151]
Pyrite is an Enhancer Mirror crystal. Enhancers have internal crystal lattices of perfect cubic symmetry and internal harmony. As "building block" talismans, their internal structure helps focus our efforts to build on our successes and enhance our lives. They concentrate our energy on the improvements we desire and thought patterns that will produce the actions needed to bring them about.
Mirror crystals are sulfides, usually volcanic in origin and opaque with a metallic sheen or luster. Their mirror-like surfaces have the power to reflect what is normally hidden and are excellent aids for seeing ourselves as we truly are, rather than how we perceive ourselves. They strip away pretensions and reveal truths, as well as helping us avoid being deceived by appearances.

Pyrite Feng Shui
Pyrite utilizes Earth energy, the energy of stability, patience, honesty, balance, and resourcefulness. It is our home energy, the energy of the ground upon which we live, the mountains, plains, shores, and valleys. It is our holdfast in the black cold universe. Use Pyrite to enhance any space that is a resting place, where you need to be firmly in control, safe, and protected. Earth energy is traditionally associated with the Northeast and Southwest areas of a home or room. These are the Skills and Knowledge area, and the Love and Relationship area.
Pyrite also resonates with Fire energy, the energy of enthusiasm, warmth, brightness, illumination and activity. It is Yang in nature. It is the energy of heat, action, emotion and passion – of ideas, of concepts, and sex. It is traditionally associated with the south area of a home or room, and with the fame and reputation area of your dwelling. Use its energy to give your life the boost it needs to enhance your standing in the community and within your family.

Pyrite in Ancient Lore and Legend
The Incas of Peru as well as the Aztecs of southern Mexico were known in antiquity to polish large slabs and rare sizable crystals of Pyrite into mirrors for gazing and scrying. While one side was usually polished flat, the other was highly convex and frequently carved with special symbolic markings. [Kunz, 99][glimmerdream.com]
Crystals of Pyrite were considered stones of power and great magic, frequently used by the medicine people of the North American Indians in amulets, for divination, and in the attire and objects used during their healing ceremonies and incantations. [Kunz, 99][glimmerdream.com]

Footnote References
The symbols [ ] enclose the author's name and a page number for a reference cited from the following books:
[Ahsian, pp.] Robert Simmons & Naisha Ahsian, The Book of Stones (Berkley, CA: North Atlantic Books, 2007).
[Altman, pp.] Jennifer Altman, Gem and Stone: Jewelry of Earth, Sea, and Sky. (San Francisco, Chronicle Books, 2012)
[Eason, pp. ]Cassandra Eason, The New Crystal Bible (London: Carlton Books Ltd., 2010).
[Fernie, pp.] William T. Fernie, The Occult and Curative Powers of Precious Stones (Blauvelt, NY: Rudolph Steiner Publications, 1973).
[Gienger, pp.] Michael Gienger, Healing Crystals (Scotland: Earthdancer Books, 2009).
[Hall, pp.] Judy Hall, The Crystal Bible (Cincinnati, OH: Walking Stick Press, 2003).
[Hall 2, pp.]Judy Hall, The Crystal Bible 2 (Cincinnati, OH: Walking Stick Press, 2009).
[Kunz, pp.] George Frederick Kunz, The Curious Lore of Precious Stones (New York: Dover Publications, 1971).
[Megemont, pp.] Florence Megemont, The Metaphysical Book of Gems and Crystals (Rochester, VT: Healing Arts Press, 2008).
[Mella, pp.] Dorothee L. Mella, Stone Power II (Albuquerque, NM: Brotherhood of Life, Inc., 1986).
[Melody, pp.] Melody, Love Is In The Earth (Wheat Ridge, CO: Earth-Love Publishing House, 1995).
[Raphaell, pp.] Katrina Raphaell, Crystal Enlightenment (Santa Fe, NM: Aurora Press, 1985)
[Simmons, pp.] Robert Simmons & Naisha Ahsian, The Book of Stones (Berkley, CA: North Atlantic Books, 2007).