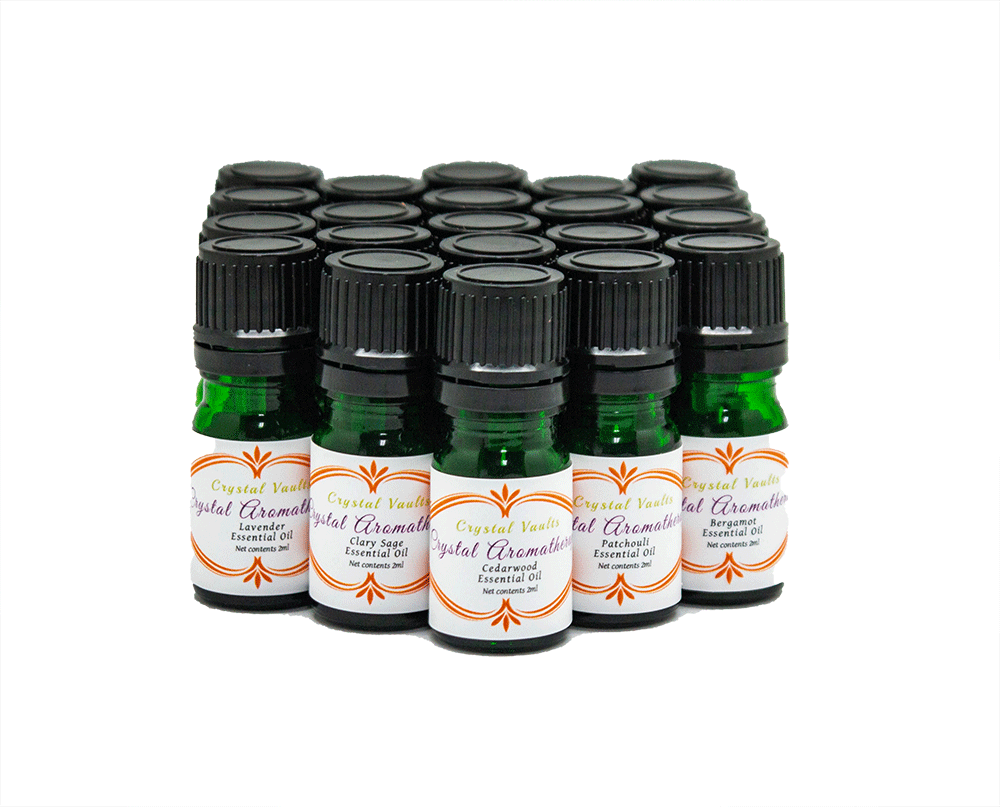 Learn how to make your own travel crystal aromatherapy mixtures on the go easily and affordably!
We will be telling you special aromatherapy recipes that you can make yourself, quickly, easily, AND affordably from home. The best part about making your own recipes is you can tailor them to what you like and need. It's hard when you find the perfect scent but just something is off or there is one essential oil you just don't like. Now, you don't have to worry about that!
Here is all you need to create the recipes we will be sharing, including the ones in this email below:
Set of 21 Crystal Essences (you could also use a diffuser set instead which comes with an aromatherapy blend and crystal essence together)
Crystal Essence (optional – if you already have essential oils, you can just get our crystal essences to use which are currently BOGO FREE – look for the code below)
A Carrier Oil (you can use many different oils as a carrier oil. This is an oil that both dilutes the essential oil and provides other nutrients for the skin. Some people use one oil and others like to mix several. Our favorites include: sweet almond oil, jojoba oil, and fractionated coconut oil. You can also add things like vitamin E oil as well.)
An Emulsifier (this is needed to mix the essential oils and crystal essences together. We recommend aloe vera gel, witch hazel, or polysorbate 20)
Base Recipe & Directions
Here is the base recipe/directions for creating your roll-on crystal aromatherapy blend.
1. Ta
ke the cap and top off the roll-on bottle. Add up to 10 drops of essential oil (find recipes below).
2. Fill the bottle up about 2/3 of the way with your carrier oil(s) of choice.
3. Put the cap back on or place your finger over the top of the bottle and shake it up.
4. Add up to 12 drops of crystal essence (find recipes below).
5. Add 5-10 drops of your emulsifier of choice.
6. Put the top and cap back on and shake again.
Your on-the-go Crystal Aromatherapy bottle is now ready to use! Roll the soothing and healing mixture onto your inner wrists, neck, or wherever you'd like to smell it on your skin.
Crystal Aromatherapy for Awakening
An awakening can be described as an act or moment of becoming suddenly aware of something. It can also be defined as something coming into existence or awareness. What this something is depends completely upon you as achieving an awakening can foster many different forms. You may be searching for a spiritual awakening to renew, revitalize, and became aware of your spirituality once again. You could also be seeking an awakening of your soul or desires, to understand yourself and get reacquainted with the core of who you really are. If you need an awakening in your life, crystals and aromatherapy are here to assist you.
Here are five of our favorite recipes.
One:
4 drops bergamot
3 drops cedarwood
3 drops cypress
2 drops juniper berry
Two:
5 drops rosemary
3 drops geranium
2 drops peppermint
Three:
4 drops lemongrass
3 drops jasmine
2 drops Roman chamomile
1 drop Lime
Four:
4 drops patchouli
3 drops cedarwood
2 drops rosemary
1 drop lemon
Five:
2 drops grapefruit
1 drop lemon
1 drop peppermint
Recommended crystal essences for all recipes: Prehnite, Sugilite, Labradorite, and Celestite. You can purchase these individually in larger bottles – they are all currently buy one, get one free. Use discount code BOGOFREE to save. If you decide to purchase the student set, we recommend using Larimar, Fluorite, Amethyst, and Selenite from the set.
Use as many drops as you'd like of any of the recommended crystal essences to the above recipes. We recommend two drops of each crystal essence in each recipe.

Get the Items You Need Now
You can also make your own from diffuser sets which come with two bottles, one with an aromatherapy blend and one with a crystal essence. If you already have the essential oils you need, you can shop our Premium Crystal Essences which are currently BUY ONE GET ONE FREE! Use discount code BOGOFREE to save.