Budding Trees Moon

"Life is a circle, from birth to death to rebirth.  Humans, like the seasons, pass through many phases during their lives.  The moon stones of the Medicine Wheel give us a way of understanding and celebrating these changes.  The moon during which you were born determines your starting point on the wheel."[1]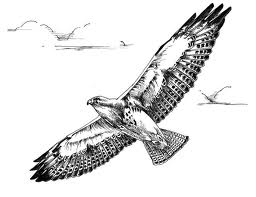 Were you born soaring between March 21st and April 19th?
If so, you share a special bond with others also born under the Budding Trees Moon, as well as your Spirit Animal Guide - the Hawk, Wabun and his Golden Eagle, and the Thunderbird Clan. Even if you were not born at this time of year, you can find strength here to follow your own path in life regardless of the opinions of others.
The Budding Trees Moon starts at the real beginning of the year – the Vernal Equinox. It, along with the moon, teaches the lessons of new growth and the eternal cycle of life.
Its animal totem, the Hawk, is driven to begin new journeys, so if you yearn to begin anew, use the Hawk's drive, keen sense of direction, laser-like focus and precision of movement to help you find a clear direction and goal for your life.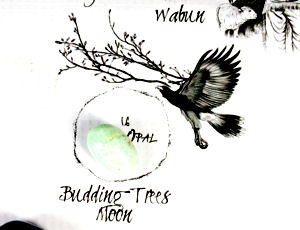 If what you seek is knowledge, the Hawk is your hunting companion. He is an opportunistic eater, targeting and eating what he finds. He will help you consume lessons and gain wisdom as you find it. Together, you will tackle problems in your life and discover your own inner personality.
In flying with the Hawk, you will also get the opportunity for pure, spontaneous adventure.
In addition to his keen eyesight, the Hawk also has excellent hearing, knowing what is going on around him, but ignoring that which doesn't serve his purpose. If negative things people have said behind your back have made their way back to you, use the Hawk Spirit to keep it from getting into your heart. Stay on your course, not worrying about impressing or making others happy. The Spirit of the Hawk can help you see friends that are true. You may find those born under the Ripe Berry Moon (July 23 – Aug 22) and the Long Snows Moon (Nov 22 – Dec 21) to be your best friends.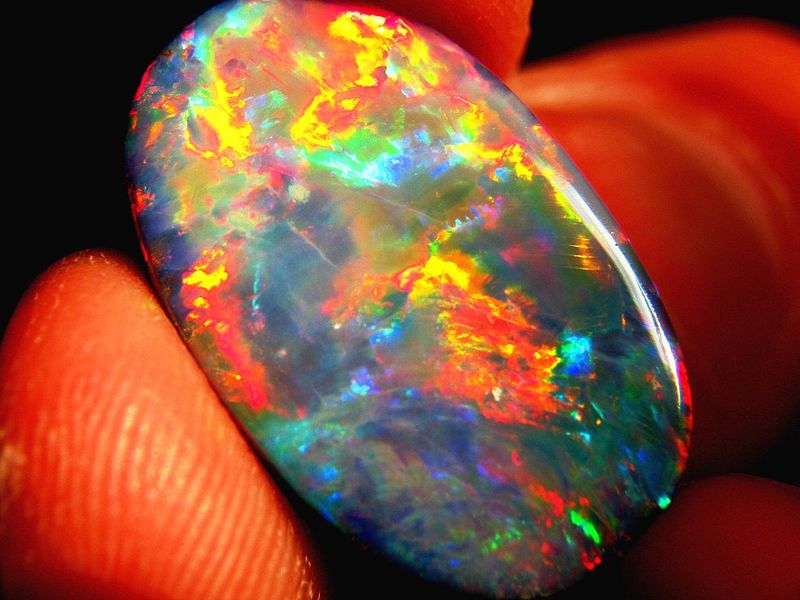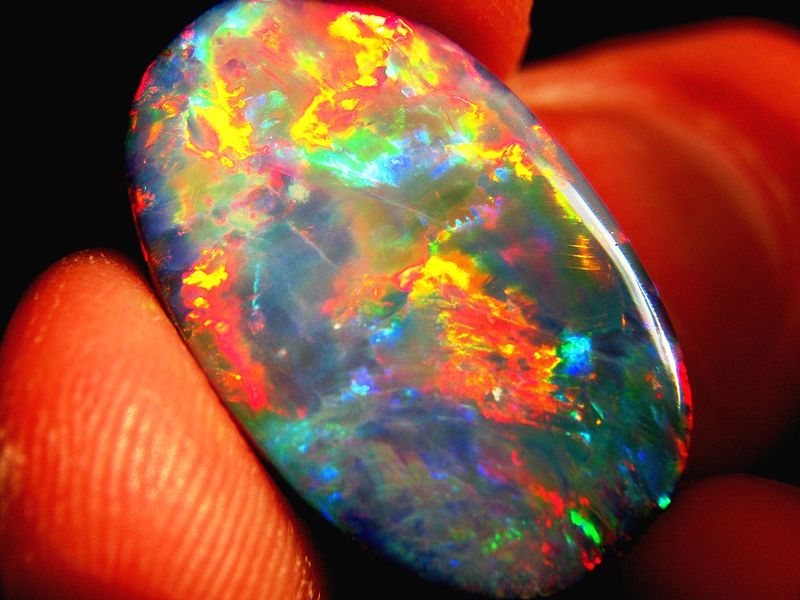 The stone for the Budding Trees Moon is the Opal, a stone so dedicated to the eye and pleasing to the sight, it inspires love and hope, innocence and purity, luck and happiness. It is most known for bringing one's traits and characteristics to the surface for examination, allowing one to understand their negative flaws and assist in letting them go. It illuminates the positive actions and emotions of the self, enhancing the good and true, and encourages one's highest potential.
The traditional color for this moon is yellow, so use Yellow crystals on the Medicine Wheel during this time. Yellow crystals bring the power and energy of clarity that comes from true awareness. It helps you solidify new interests and new relationships, and aids when decisiveness, precision and persuasiveness is needed.
Click to learn more about Opal or Yellow crystals for use on your Medicine Wheel.