St John's Wort Meaning, Healing, and Magical Uses
Welcome to the Masters' Grimoire of Magical Herbs page for St John's Wort. Here you will learn everything you've ever wanted to know about this herb including St John's Wort's magical uses,St John's Wort physical healing, and emotional healing properties, plus its use in meditation, St John's Wort lore and legends, and much more!
Introduction to St John's Wort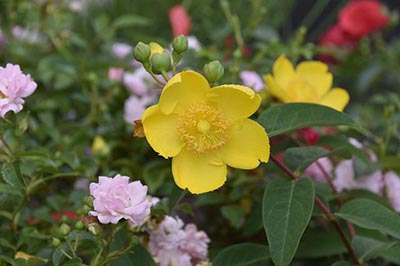 St John's Wort is an herb with ancient European traditional uses as a healing herb, particularly for depression.  Magically is is an herb of command and leadership with uses to organize and get projects done by a group. Its emotional healing attributes trace back to its namesake: John the Baptist.  The use of St John's Wort for clearing away negativity from objects and places is well worth knowing.  Its yellow energy is that of the  coming of the sun and the warmth it brings.
The flower of St John's Wort is the color of the bright days of early summer, and as the sun high in the sky lights up the landscape, its yellow color ray brings us the power of enlightenment, lighting up the landscape of our search for knowledge. It is the color of the summer solstice ushering in the bright time of long days, warm temperatures, and sustained vigor.
T
St Johns Wort, Latin Name:  Hypericum perforatum is a great herb but can be an invasive weed too.  It has been used in folk medicine for centuries and is cultivated today and easily grown across Europe, Asia and North and South America.  Its use in medicine has declined as it has been found to interfere with many prescription drugs.  The sacred number of St John's Wort is 37.