Marjoram Meaning, Healing, and Magical Uses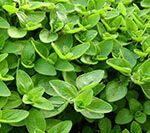 Welcome to the Masters' Grimoire of Magical Herbs page for Marjoram. Here you will learn everything you've ever wanted to know about this herb including Marjoram's magical uses, Marjoram physical healing, and emotional healing properties, plus its use in meditation, Marjoram lore and legends, and much more!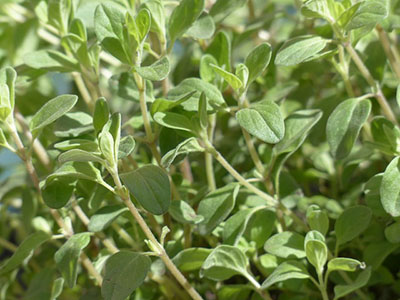 Marjoram is a cold-sensitive perennial herb. It is also considered an undreshrub with sweet pine and citrus flavors. In some countries in the Middle East, is synonymous with oregano and the names sweet marjoram and knotted marjoram are used to distinguish it from other plants of the same genus. It is also called pot marjoram though this name is also used for other cultivated species of the same genus, Origanum. 
Its leaves are smooth, simple, and ovate to oblong and about 0.2–0.6 inches long and 0.1-0.3 inches wide. They have an obtuse apex with a symmetrical base and reticulate venation. The texture of the leave is very smooth due to it's many hairs. 
Marjoram is cultivated for its aromatic leaves. In either form, green or dry, it is used mostly for culinary purposes. The tops are cut as the plant begins to flower and dried slowly in the shade. It is often used in herb combination such as herbes de Provence and za'atar. The flowering leaves and tops of marjoram are steam-distilled to produce essential oil that is yellowing in color and darkens to brown as it ages. It has many chemical components, some of which are borneol, camphor, and pinene.
Marjoram is indigenous to Cyprus, the Mediterranean, Turkey, Wester Asia, and the Arabian Peninsula, and the Levant. It was known to ancient Greeks and Romans as a symbol of happiness. It is possible that marjoram spread to the British Isles during the Middle Ages. It is not widely used in the United States after World War II. 
Other names for marjoram include; knotted marjoram, marjorana, hortensis, wurstkraut, adi mercankosk, common marjoram, echo marjolein, joy of the mountain, marjolaine, margaram, French Marjoram, Mayorana, mayorana-so, oregano, oregano de espana, origanium, perennial, pot marjoram, raihan, jabaili, Turkish Oregano, Wild Marjoram, Winter Oregano, and Winter Marjoram. 
Today, marjoram is mainly used for consumption. Its popularity could be due to the rise of low-fat and low-salt diets which require more seasoning. 
The Sacred Number of Marjoram is 120