Calendula Meaning, Healing, and Magical Uses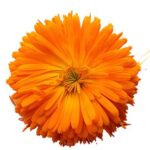 Welcome to the Masters' Grimoire of Magical Herbs page for Calendula. Here you will learn everything you've ever wanted to know about this herb including Calendula's magical uses, Calendula's  physical healing, and emotional healing properties, plus its use in meditation, its lore and legends, and much more!
Introduction to Calendula
Calendula, also known as the pot marigold, has been used for centuries for decorative purposes, to adorn vases and flower pots. It has also been used for culinary, cosmetic and medicinal purposes. Even if you're not quite sure what it is, you probably are familiar with Calendula. This plant is in the same species as the traditional orange, fluffy marigold that we see in flower gardens, fields, and even on the roadside. Calendula is one of the top herbs in natural healing medicine and can be taken orally, but is more popularly applied topically. This flower has become popular in many natural health products and skin care lines on the market today, used in many various lotions, shampoos and other products. 
Calendula has many physical health benefits and is admired for its anti-inflammatory properties. The oils within this plant also have excellent antimicrobial and antiviral properties. Spiritually, many practitioners throughout the ages have utilized Calendula for its ability to bring in the energies of love, clairvoyance, and renewal.     
Calendula, scientifically known as calendula officinalis, is a perennial plant that is considered easy to cultivate in temperate climates. The leaves are considered edible and their petals are occasionally used to add color to salads or as a garnish, however, its most popular use is as a tea.  
The ancient Greeks and Romans, as well as cultures in the Middle East and Asia, used calendula as a medicinal herb and also as a dye for fabrics and cosmetics, due to its vibrant orange hue. The Sacred Number of Calendula is 102.