Borage Meaning, Healing, and Magical Uses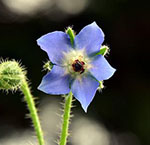 Welcome to the Masters' Grimoire of Magical Herbs page for Borage. Here you will learn everything you've ever wanted to know about this herb including Borage's magical uses, Borage physical healing, and emotional healing properties, plus its use in meditation, Borage lore and legends, and much more!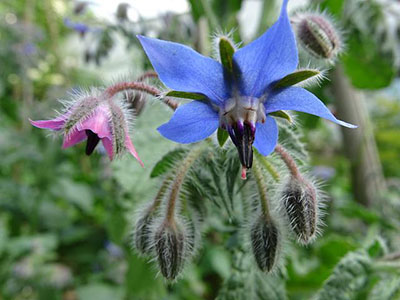 Borage is also known as starflower. It is an annual herb in the flowering plant Boraginacaea. It is native to the Mediterranean region though it has been naturalized in other regions. It grows well in gardens ranging from Europe in places like Denmark, France, Germany, and the United Kingdom. The leaves are edible and the plant is grown in gardens for that purpose. 
It is commercially cultivated for borage seed oil which is extracted from its seeds. The plant contains pyrrolizidine alkaloids, which some are hepatic, mutagenic, and carcinogenic. Borage usually grows to a height of 60-100 centimeters. It is bristly and hairy all over the stems and leaves. The flowers have five narrow, triangular-pointed petals. The flower is usually blue though it can sometimes bloom in pink. White-flowered types of borage are also cultivated, however the blue flower is the genetically dominant. 
Borage is used in companion planting. It is said to protect or nurse other species of plants such as; legumes, spinach, brassicas, and strawberries. It is also known to be a good companion to tomatoes as it confuses mother moths of tomato hornworms and manduca when looking to lay their eggs. 
Borage seeds contain borage seed oil which is a GLA or Omega-6 oil. It also contains fatty acids palmitic acid, stearic acid, oleic acid, linoleic acid, eicosenoic acid, erucic acid, and nervonic acid. It is marketed as starflower oil or borage oil and used as a GLA supplement. The German Federal Institute for Risk Assessment has advised that honey made from borage contains PA's transferred by the pollen collected from the plants. 
Besides its medicinal use, it is commonly used as a fresh vegetable or dried herb. It has been described as having a "cucumber-like" taste and is often used in salads or as a garnish. The flower has a sweet, honey-like taste and is often used to decorate desserts and cocktails. It is commonly frozen inside of ice cubes for decoration. 
Using borage as a vegetable is common in Germany and in the Spanish regions of Aragon and Navarre, and the Greek island of Crete, and the norther Italian region Liguria. In Germany, it is often used in soups or made into a specialty "Green sauce." In Liguria, it is used as a filling for traditional pasta ravioli and pansoti. It is also used to flavor pickled gherkins in Poland and Russia. The flowers produce a copious amount of nectar making it a favorite for honeybees which produces a light and delicate honey. 
The Sacred Number of Borage is 181.