Crystals for Faithfulness
Crystals For Faithfulness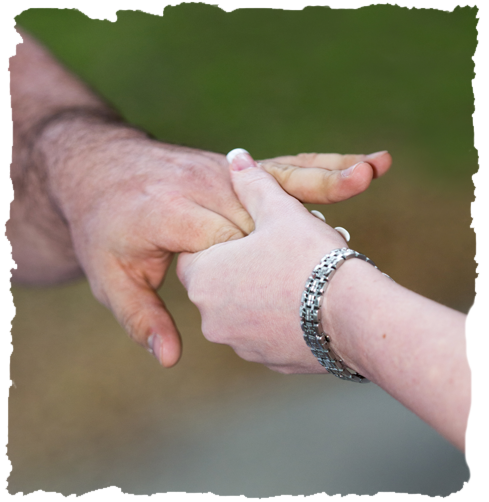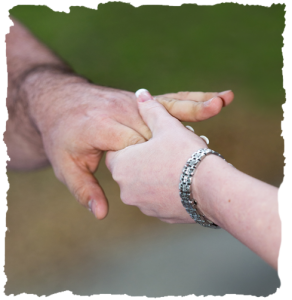 When we find a person that we love, most people will commit themselves to the other person. This doesn't always have to be marriage, but basically a verbal or silently acknowledged agreement that you will love and honor the person you are with. Part of this agreement is to stay faithful to the one you are with and not continue to be promiscuous. Unfortunately, some of us, even though we love the person we are with, have a harder time staying faithful. At the same time you may also be looking to try and keep your significant other faithful also. In both cases we believe that crystals can help. If you are looking to stay faithful then the right crystal can act as your rock, to stabilize your desires and focus it to where it should be. If you are wanting to keep a partner faithful in a relationship, it may be a little more challenging, but keeping the right crystal in your bedroom or home can strengthen the bond between you and make fidelity a stronger goal.
Blue colored crystals bring us potent rays of trust and faith. When you are looking to bring faithfulness to your relationship, there is no better color. Blue is the color of ice reflecting the slowly lightening winter sky as the deep violets depart and the sun climbs higher every day. As the winter slowly gives way to the budding spring, and life quickens, ready to burst forth, blue marks the beginning of life and emotion. Blue crystals are the crystals of trust. When we seek to become more sincere, act more responsibly, or become more trustworthy or faithful, these crystals give us the focus we require.
Use Blue Crystals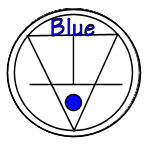 Blue Crystals Bring You Trust, Faith, Patience, and Respect
Trust is a complex need. We seek to trust others, and we seek to be trustworthy. Most of our interactions with others depend on mutual trust. Blue crystals are excellent aids in ensuring that we are acting out our lives as worthy of the trust of our friends, acquaintances, and community. This is especially important with being faithful in our relationships. Without trust our resolve and foundation are soon to crumble. An important factor that blue colored crystals bring is overcoming insecurity. If you are looking to get a crystal so your partner will stay faithful, this may actually work in your favor. A lot of the fear associated with your partner cheating is based off of insecurity. So while it can strengthen the trust and faithfulness in your relationship, it can also help you overcome any linger insecurities you may have.
Sodalite is a gorgeous blue crystal that help us see the best in people, make the best of a situation, and most importantly bring us self-improvement and push away negative energy. Sodalite is an Enhancer Filter Crystal. Enhancers are minerals and crystals with internal crystal lattices of perfect cubic symmetry and internal harmony. They can focus and enhance our energy on the feelings of improvements we desire and help turn them to the thoughts that will produce the actions we need to improve, such as our faithfulness. Sodalite, with its earth power of a Filter, is used to keep negative energy away from us. When we want help to see the best in others, to give others the benefit of the doubt, to see the good side of something, use a Sodalite. It is too easy in life to see the glass half empty, the child as a poor student, or the spouse as a slob. Filters, like Sodalite, help us see the glass half full, the child as a loving, well-meaning young lady, and the spouse as an excellent provider, devoted to his family.
Lapis Lazuli is one of the most sought after stones in use since man's history began. Its deep, celestial blue remains the symbol of royalty and honor, gods and power, spirit and vision. It is a universal symbol of wisdom and truth. A stone of truth, Lapis encourages honesty of the spirit, and in the spoken and written word. Wear it for all forms of deep communication. It is also a stone of friendship and brings harmony in relationships. Being a stone of truth while also bringing harmony to your relationship makes it a very powerful stone for faithfulness. Blue Lapis encourages the qualities of honesty, compassion and uprightness when dealing with others. It provides an awareness of one's motivations and beliefs, and gives a clearer perspective of one's whole life. It reveals not only one's limitations, but the opportunities for growth and to utilize one's gifts and abilities.
Sodalite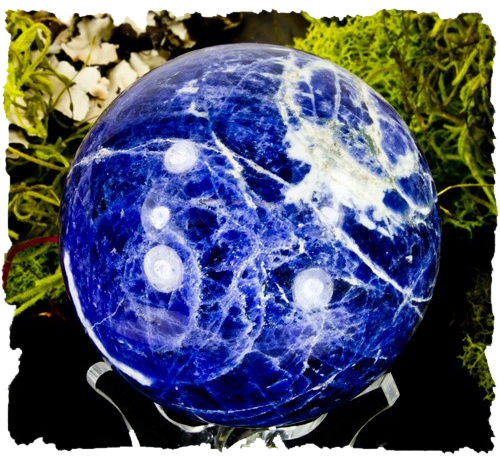 Sodalite brings us Water Energy. Water energy is traditionally associated with the North area of a home or room. It is associated with the Career and Life Path area. Its flowing energy will assure a balance of energy as your life unfolds and flows. To keep your life moving forward towards your goals use the water elements energy.
Lapis Lazuli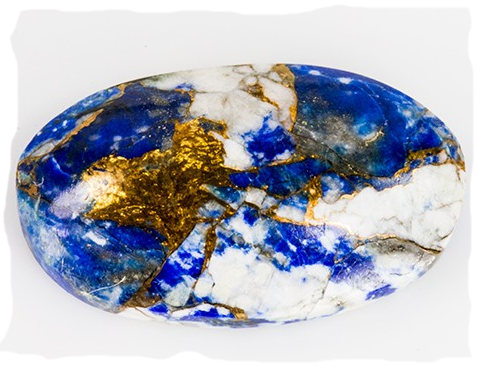 Other practitioners report that Lapis is a stone that promotes friendship and truth and can be worn to promote honesty and ease of communication. It is also believed to increase mental clarity, and be an energy focus for teachers. It is believed to enhance creative self-expression and to promoting spirituality.
What Authors Say About Crystals

Judy Hall suggests Opal which is a stone of lore and legend.
Wearing Opal is said to bring loyalty, faithfulness, and spontaneity, but may amplify fickleness where the propensity is already present.

Melody recommends Chrysoprase which is an amulet stone of tranquility, peace, and protection from the undesirable elements of life.
Chrysoprase has been used to encourage fidelity in business and personal affairs.

In almost all cases, unless previously discussed, unfaithfulness in a relationship will tear it apart at its seams, making it near impossible to repair. The best way to avoid this heartache is to evade infidelity all together and be faithful to your partner. It has been shown that some of us find this more difficult than others. If you are trying to stay faithful in a relationship or if you are trying to strengthen your relationship and keep your partner faithful, use blue colored crystals. Blue crystals bring you trust, faithfulness, and helps you overcome insecurities. We suggest using beautiful blue Sodalite and Blue Lapis (Lapis Lazuli). You can also try crystals that other authors have recommended such as Opal and Chrysoprase.