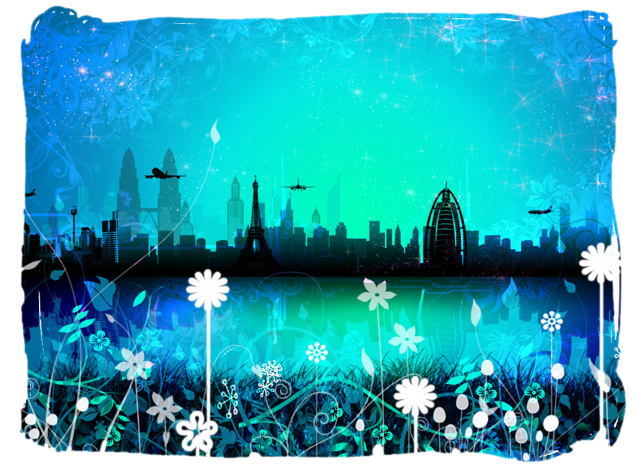 Each night when we fall asleep, we slip off into a peaceful, quiet, and magical land of our dreams. These moments can sometimes quite literally be, the things our dreams are made of. We can do what we want, see who we want, and say what we want. This is a way for our subconscious to work out things it cannot express during the day. However, less than half of us will remember our dreams when we wake up. If we remember it right upon wakefulness and do not write it down immediately, studies show it will be gone from our mind within hours or less. What if you could make your dreams more vivid, more real, and more easily remembered? Are you having a specific reoccurring dream that you can never recall? If it was more vivid and intense, you might be able to recall them even easier. By recalling and examining our dreams, we can often find the keys to other missing pieces in our life.
To obtain more vivid, real, and easier to remember dreams, we recommend the use of violet crystals. Like the sleepy, misty time of year that produces its rays, violet is the color ray of intuition, dreams, nobility, and luxury. As the color ray of influence that begins the cycle of life once again, violet is one of the most powerful rays in nature. It inspires awe, and invites a feeling of mystery and magic, reminiscent of the mystery and magic of life's rejuvenation and renewal. The color violet is associated with the crown chakra which controls how we think and how we respond to the world around us.
Use Violet Crystals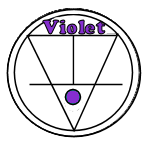 Violet Crystals Bring You Intuition, Magic, Dreams, and Imagination
Specifically, dark violet is the color you seek when looking to enhance your dreams. Dark violet crystals have special powers. They are the "dream crystals." They are the windows to the soul and the world beyond our ordinary understanding. They are best for aiding us in interpreting our dreams, and are the entries to places in our minds we don't know exist. A faceted, translucent, vibrant dark violet crystal is magic on a higher plane. Dark violet is the true color ray of good luck. Luck is a dream manifested. Dark violet is the color ray that connects dreams and reality.
There are very special crystals that are specifically attuned to our subconscious and our dreams, they are the dark violet Dream Maker crystals. Dream Makers protect your mind during sleep. They ward off negative energy that can cause nightmares and bad dreams. They form a sort of spiritual cocoon in which your mind is free to grow, explore, dream, and expand without being disturbed. Do you want peaceful, relaxing, invigorating sleep? Use a Violet Fluorite. Just be sure to awaken the spirit of the crystal when you get it. If you don't know how to do this, out Guide to Preparing Crystals in Section Four: Awakening Crystal Spirits, covers this in detail.
Another crystals which acts as a powerful antidepressant as well as an interpreting dream stone is Lithium Quartz. Lithium Quartz is a crystal of dreams, intuition, and luxury. It is a healing crystal of the crown chakra, a powerful fire element used in the south area of a home, and a meditation stone when you seek to understand your dreams. They are powerful aids in interpreting our dreams, inspiring us to great deeds and accomplishments, and putting the magic back in our lives and relationships. Lithium Quartz is one of the few opaque gems used in divination. It is used to interpret dreams. To use it for this purpose, it should be place under your pillow at night to capture the dream essence. Then upon awakening, hold the crystal on your forehead for several minutes until the dream and its meaning reenter your mind.
Dream Makers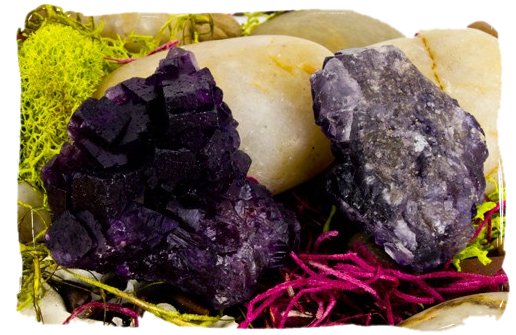 It is highly recommended that you keep Dream Maker crystals near your bed. Gaze upon it as you get ready to sleep. Imagine you are curling up inside the stone. You will find you are protected from bad dreams, and are free to explore your inner being as you sleep, without being disturbed by unpleasantness.
Lithium Quartz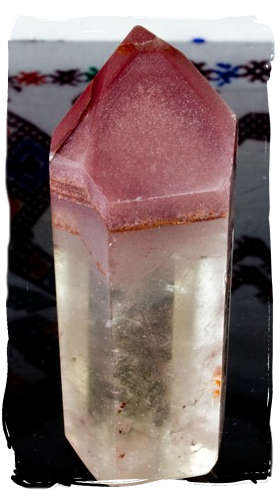 Use a Lithium Quartz to restore the balance in your spirit energy of the crown chakra. When the crown chakra is out of balance or its energy is blocked, you will feel clumsy, uncoordinated, and at sorts with life. The world will seem to be spinning, and you will be unsure of who you are or why you even exist. You will have difficulty understanding relationships, ideas, and dreams.
What Authors Say About Crystals

Michael Gienger suggests Jade which is a talisman of personal protection and one of the joy of nature.
Jade has been looked upon as a good luck charm for thousands of years, especially in the Far East. It encourages self-realization. It helps us recognize ourselves as spiritual beings. Jade also enlivens inner images and dreams and awakens hidden inner knowledge.

Robert Simmons recommends Blue Apatite which is a stone of balance and restoration after emotional trauma.
Blue Apatite is a cleansing influence on the auric field, especially in the mental body, the vibratory level associated with psychic perception and paranormal activities. It is stimulating to visionary states and is a good stone to keep in one's pillowcase for lucid dreaming and astral travel.

Judy Hall mentions Barite which is a powerful transformer.
Stimulating dreaming and dream recall and encouraging the pursuit of dreams, this stone assists in communicating your intuitive vision and heightens your ability to organize and express thought.

If you look to understand your dreams a bit more or have more vivid dreams that seem and feel real and are more easily remembered, violet crystals can help. Violet colored crystals are considered magical and are often referred to as dream stones. We suggest dark violet crystals such as the Dream Maker and Lithium Quartz. You can also try crystals that other authors recommend such as Jade, Blue Apatite and Barite.

The Book of Stones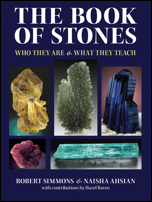 The Book of Stones
Simmons, Robert
Ahsian, Naisha
(East Montpelier, VT:
Heaven & Earth 2007)
The Encyclopedia of Crystals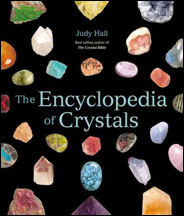 The Encyclopedia of Crystals
Hall, Judy
(Beverly, MA:
Fair Winds Press 2007)
Crystal Power, Crystal Healing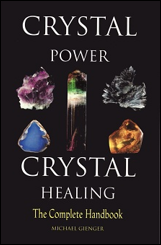 Crystal Power, Crystal Healing
Gienger, Michael
(United Kingdom:
Blanford 1998)<