Baking with Crystals: Double Chocolate Bites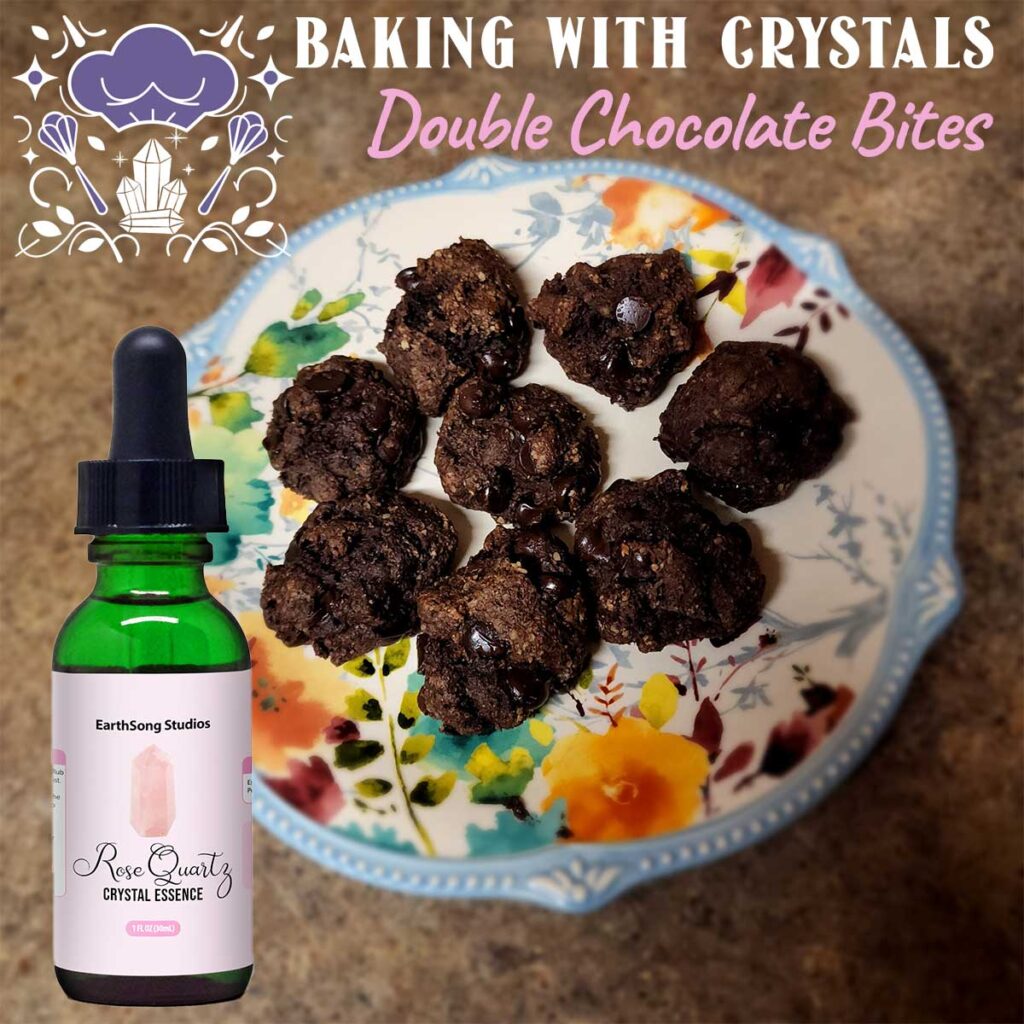 Are you looking for a delicious AND nutritious treat that's full of joy and loving energy? Then you're in the right place! This week in Baking with Crystals, we're making Double Chocolate Bites! These yummy treats are made with carefully chosen ingredients that feed your body healthy, important nutrients while still offering a party in your mouth. If you're interested in how each ingredient works to nurture your body, you can read more below the recipe.
For many of us, chocolate is a soothing, comforting food that makes us feel warm, loved, and happy. That's why for this week, we're using Rose Quartz Crystal Essence! It is the perfect partner for chocolate in baking. Just a few drops in the batter add a loving, healing, and soothing energy that is sure to make you feel calm, whole, and happy. It's great for you and the entire family to indulge on (just no four-legged family members — they can't have chocolate).
Watch this Baking with Crystals Segment on TikTok
Double Chocolate Bites Recipe
These Double Chocolate Bites sit somewhere between a cookie and a brownie on the texture and taste scale. They will bake how you place them down. If you leave them in little balls, they will look like the ones shown here. However, you can also squish them down to make them more like a classic cookie shape.
This is considered to be both a forgiving and healthy recipe. Fats like butter are replaced with healthier alternatives such as coconut oil and applesauce. Whole wheat flour is used instead of all-purpose flour, however, this could be swapped out with almond flour or oat flour, which are both gluten-free. We replaced refined sugar with artificial sugar but you could also use maple syrup, honey, or agave nectar instead. You can also remove the walnuts completely if there are any nut allergy concerns.
2 tablespoons refined coconut oil (melted)
1/2 cup (or 1 3.9 oz container) no sugar added applesauce
1/2 cup Splenda or Truvia sugar
2 tablespoons Splenda or Truvia Brown Sugar
1 egg
1 teaspoon vanilla extract
6 drops of Rose Quartz Crystal Essence
1/4 cup cacao powder
1/2 teaspoon baking soda
1/4 teaspoon salt
1 1/4 cups whole wheat flour
1/2 cup walnuts (chopped or blitzed in a food processor)
2 tablespoons milk
1 cup dark chocolate chips
Melt the coconut oil and add it to a mixing bowl along with the applesauce and both artificial sugars. Mix together.


2 tbsp coconut oil, 1/2 cup applesauce, 1/2 cup artificial sugar, 2 tbsps artificial brown sugar

Add the egg and mix well.


1 egg

Add vanilla extract, Rose Quartz Crystal Essence, and cacao powder. Mix until the powder is completely incorporated.


1 tsp vanilla extract, 6 drops crystal essence, 1/4 cup cacao powder

In the same bowl, add whole wheat flour, baking soda, and salt. Mix until most of the flour is incorporated.


1 1/4 cups flour, 1/2 tsp, 1/4 tsp salt

Add in walnuts, milk, and chocolate chips and mix together. The batter will be thick.


1/2 cup walnuts, 2 tbsp milk, 1 cup chocolate chips

Cover the bowl and place it in the refrigerator for an hour.
After the hour is almost up, preheat the oven to 350°F and prepare your baking sheets with either parchment paper or a spray like Pam.
Retrieve your batter from the refrigerator and use your hand to pull out palm-sized pieces and roll them into balls (1.5" or so). Place them onto the baking sheet. If you want them to be more cookie-shaped, squish them down a bit. Depending on how big you roll them, you should be able to get 16-18 dough balls. I always seem to get 17. Space them out to 9 per baking sheet.
Put two baking sheets in the preheated oven or cook in batches. Bake for 12 minutes.
Nutritional Facts
17 servings, 1 serving, 106 calories, 5g fat, 11mg cholesterol, 65mg sodium, 18g carb, 2g fiber, 5g sugar, 0g added sugar, 2.5g protein
Notes
The artificial sugar can be replaced with 1/4 cup maple syrup, agave nectar, or honey. Cacao powder can be swapped with cocoa powder. If you would like to remove it completely, you can also replace it with 1/4 cup flour. Whole wheat flour can be replaced with a flour of your choice, such as almond or oat flour. Walnuts can be omitted if preferred. The milk can be replaced with any milk alternative such as almond, oat, or rice milk.
This week we are using Rose Quartz Crystal Essence! This essence is specially designed to allow you to employ the healing properties of crystals and the loving energy of Reiki in your daily life easily and effectively. Used as an elixir, Rose Quartz circulates Divine loving energy throughout the entire aura.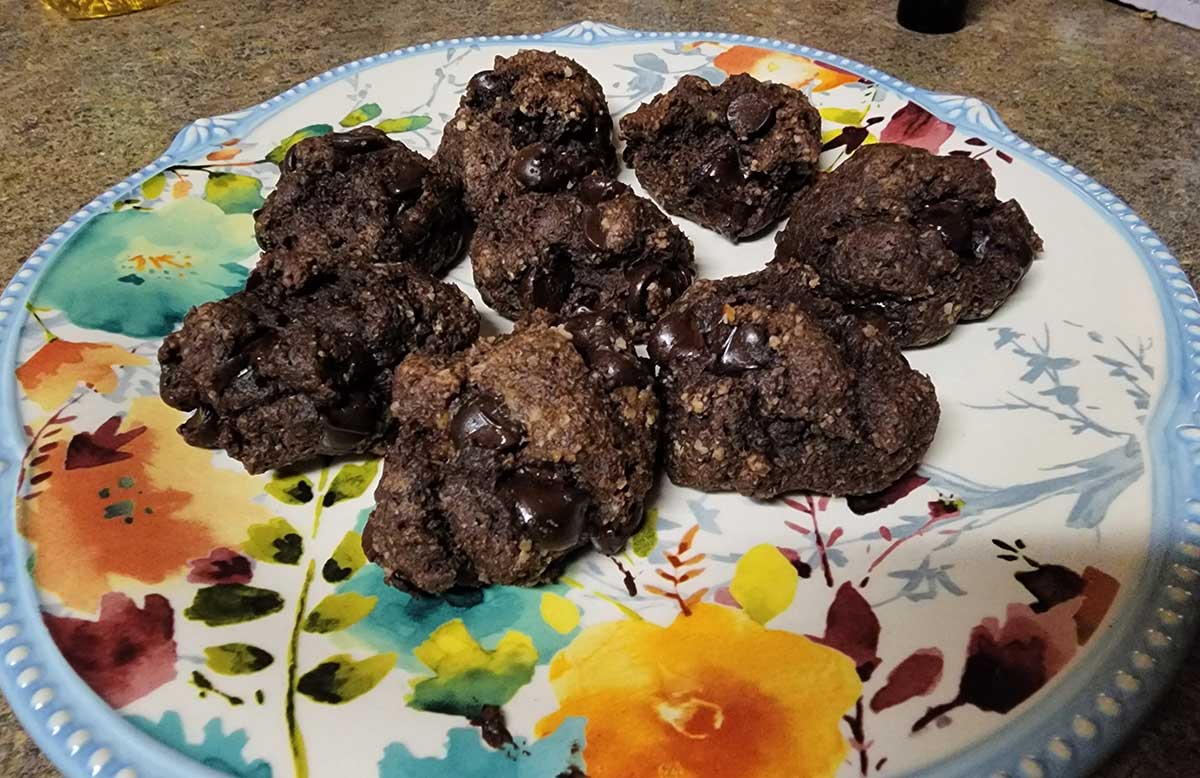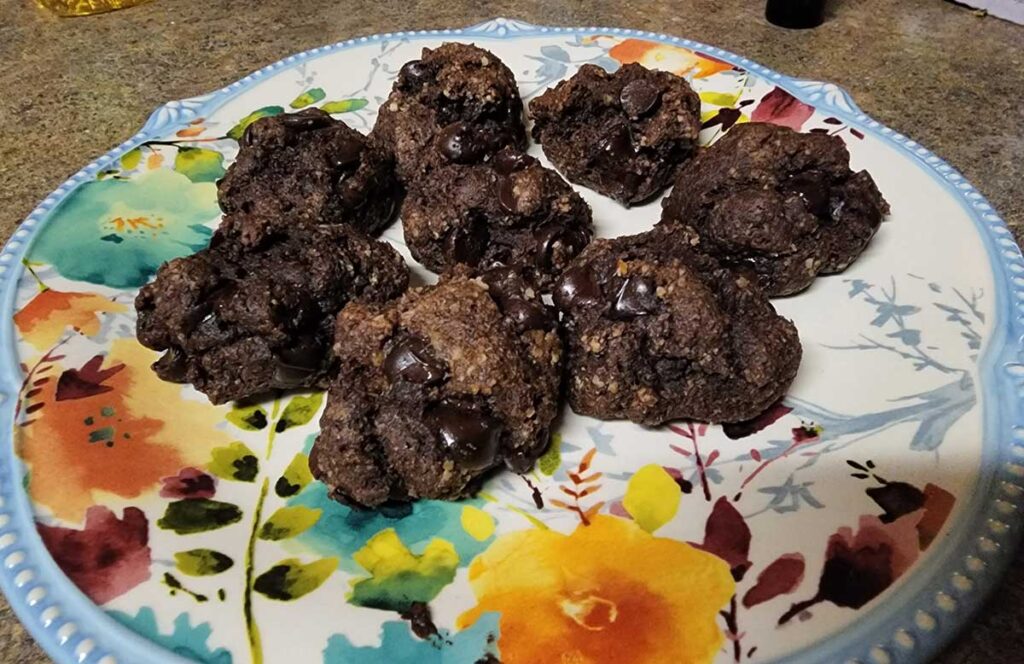 Why Double Chocolate Bites are Good for You
These Double Chocolate Bites are not only delicious, but they are also nutritious! Each ingredient was chosen for its vitamins, minerals, healthy fats, antioxidants, and more. You can read more about some of our favorite ingredients below.
Coconut Oil
Coconut oil brings you more energy, encourages fat burning, and reduces hunger. It is also packed full of antioxidants. Coconut oil is most often touted for being rich in Medium-chain triglycerides (MCTs). These are what are said to increase your energy and allow you to also burn more fat.
Applesauce
Applesauce is good for your heart and digestive health. It is a serving of fruit and has soluble fiber which can help reduce your blood pressure. Applesauce also contains polyphenols which may help to reduce blood pressure. Top vitamins and minerals in applesauce include Potassium, Vitamin A, Vitamin C, Vitamin B6, Calcium, and Magnesium.
Cacao
Cacao is not only a rich source of fiber but is also packed with flavonoids. These nutrients have been shown to help improve blood flow to the brain and heart and lower blood pressure. Cacao powder can also lower your risk of diabetes, heart disease, and digestive problems. It can also help to reduce inflammation throughout your body. Cacao powder is an excellent source of Iron, Protein, Magnesium, Potassium, and Fiber.
Whole Wheat
Whole wheat flour is a whole grain and therefore high in fiber. Fiber can help you lose weight, control your blood sugar, lower your risk of heart disease, and aid in digestion. It has far more fiber and nutrients such as iron, calcium, and protein when compared to white flour. Whole wheat flour is also rich in vitamins B1, B3, and B5, riboflavin, and folate.
Dark Chocolate
Dark chocolate is loaded with soluble fiber and minerals such as iron, copper, magnesium, potassium, phosphorus, zinc, selenium, and manganese. It is also a powerful source of antioxidants. Dark chocolate may also lower the risk of heart disease, protect against sun damage, improve cognitive function, improve blood flow, and lower blood pressure.
Walnuts
Walnuts are used in this recipe purely for their nutrient-dense properties. They are higher in antioxidants than any other common nut. It is also considered a super plant source of omega-3s. Walnuts can also reduce inflammation, promote a healthy gut, and help with weight loss and weight control. Plus they can lower your risk for type 2 diabetes and heart disease. Walnuts also support healthy aging, good brain function, and male reproductive health.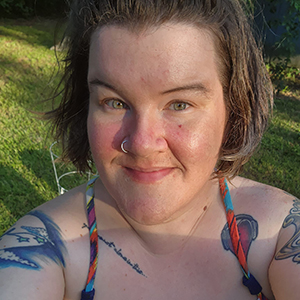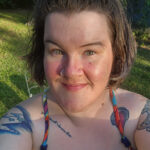 Kat Ohren
Kat is a Certified Crystal Master and Crystal Astrologist. She has been working with both crystals and astrology for over 20 years. She holds a Bachelor of Science degree in Information Sciences and Technology from Pennsylvania State University. Kat is a Florida native and has been with Crystal Vaults for over 10 years.

Always stay up to date on crystals, sales, and more by joining our email list!
We're proudly spam-free and will only send you the best crystal info and sales.
References
Health Benefits of Coconut Oil by Ariane Lang, BSc, MBA via Healthline
Health Benefits of Applesauce by Arefa Cassoobhoy, MD, MPH via WebMD
Health Benefits of Cacao Powder by Dan Brennan, MD via WebMD
Whole Wheat vs. White Flour by Kimberley Eggleston via The Spruce Eats
7 Proven Health Benefits of Dark Chocolate by Kris Gunnars, BSc via Healthline
13 Proven Health Benefits of Walnuts by Marsha McCulloch, MS, RD via Healthline