White Willow Bark Meaning, Healing, and Magical Uses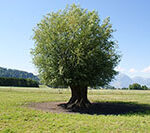 Welcome to the Masters' Grimoire of Magical Herbs page for White Willow Bark.. Here you will learn everything you've ever wanted to know about this herb including White Willow Bark's magical uses, White Willow Bark physical healing, and emotional healing properties, plus its use in meditation, White Willow Bark lore and legends, and much more!
Introduction to White Willow Bark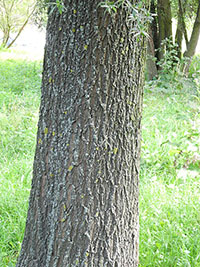 White Willow or Salix Alba, is a species of Willow native to Europe and Western and Central Asia. The name is derived from the white tone to the undersides of its leaves. It is a medium sized to large deciduous tree that grows up to 10-30 meters tall. It's trunk can be up to 1 meter in diameter and has an irregular, often leaning crown. The bark is grey-brown and deeply fissured in older trees. The shoots are typically grey-brown to green-brown. 
The leaves are paler than most other willows. This is due to the covering of very fine, silky white hairs on the undersides. The flowers are produced in catkins early in the spring and are pollinated by insects. The flowers are dioecious, meaning they have male and female catkins produced on separate trees. The male catkins are 4-5 centimeters long, female catkins are 3-4 centimeters long and lengthen as the fruit matures. When they mature in midsummer, female catkins make numerous small capsules, each containing many minute seeds that embed in white down, which aids in wind dispersal. 
White Willow is usually only found in wet or poorly-drained soil at the edge of pools, lakes, or rivers. It's wide-spreading roots take up moisture from a large surrounding area. White Willows are fast growing and short-lived. They are susceptible to many diseases, including watermark disease caused by bacterium and Willow anthracnose, caused by fungus. These diseases can be problems for trees that are grown for timber or as decoration. 
The wood of White Willow is tough, strong, but also light weight. It has minimal resistance to decay.  Charcoal made from the White Willow was once important for gunpowder manufacturing. The bark tannin was used in the past to tan leather. The wood is also used to make cricket bats. White Willow wood has a low density and lower transverse compressive strength.  This allows the wood to bend and this is why it is used to make baskets. 
White Willow Bark contains indole-3-butyric acid, which is a plant hormone that stimulates root growth. Willow trimmings are sometimes used to clone rootstock in place of commercially synthesized root stimulator. It has also been used for ritual purposes by the Jewish peoople on the holiday of Sukkot. 
The sacred number of White Willow Bark is 60.