Spanish Moss Meaning, Healing, and Magical Uses
Welcome to the Masters' Grimoire of Magical Herbs page for Spanish Moss. Here you will learn everything you've ever wanted to know about this herb including Spanish Moss' magical uses, Spanish Moss physical healing, and emotional healing properties, plus its use in meditation, lore and legends, and much more!
Introduction to Spanish Moss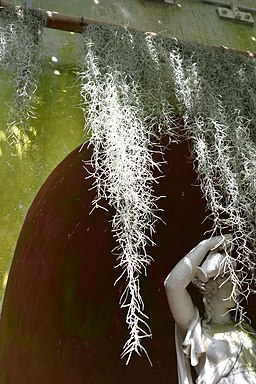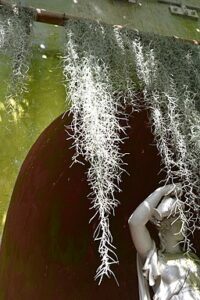 Neither from Spain. nor a moss, Spanish moss is an unusual herb. Associated with the Hawaiian Goddess of Fire, Pele, and favored by Arael, The Angel of the Birds, this is a herb of many magical uses. 
It is a herb of rest, of care, of gentleness, of comfort, and of relaxation.  While certainly unusual in its growing habit, hanging from tree limbs in the warm southern climes, it is one well worth getting to know. 
Spanish Moss seems to have been named for its appearance to a beard. We call it that because one Native American name for this plant translated to 'tree beard'.  And the plant, often being gray and having down from a tree reminded the French settlers of the beards of the Spanish conquistadors, 
They called it a name that translate to 'Spanish Beard'. The name Spanish moss just evolved from these names.  It is actually a flowering plant called an angiosperm, in the family Bromeliaceae (the bromeliads).  It grows hanging from tree branches in full sun through partial shade.
The scientific name for Spanish Moss is Tillandsia usneoides.  It is an epiphytic flowering plant that usually grows on large tropical tress.  It is native to most of the southern United States, Mexico and Central America although it has been cultivated elsewhere such as in Hawaii and Australia.  You can easily find it in Florida where it is plentiful. The sacred number of Spanish Moss is 9.