Roman Chamomile
Meaning, Healing, and Magical Uses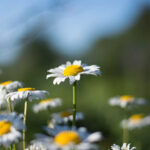 Welcome to the Masters' Grimoire of Magical Herbs page for Roman Chamomile. Here you will learn everything you've ever wanted to know about this herb including Roman Chamomile's magical uses,Roman Chamomile physical healing, and emotional healing properties, plus its use in meditation, Roman Chamomile lore and legends, and much more!
Introduction to Roman Chamomile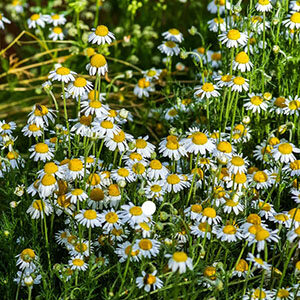 Chamaemelum nobile or more commonly known as chamomile and is a low perennial plant. It is usually found in dry fields and around gardens and cultivated grounds in Europe, North America, and South America. It is also known as Roman Chamomile, English Chamomile, Garden Chamomile, Ground Apple, Low Chamomile, Mother's Daisy, and Whig Plant. It is a source of herbal product known as Chamomile which is the dried flowers for favoring teas and also as a fragrance for aromatherapy. 
Chamomile has flowers that resemble daisies. They consist of white petals with a prominent yellow disk center. They usually flower in June and July in the Northern Hemisphere. They have a sweet, crisp, fruity fragrance. They are often confused with German Chamomile which is diffferent and contains different chemical composition.
Extracts of the dried flower are used in hair care and skin care products. The plant is also used to flavor foods, herbal teas, perfumes, and cosmetics. It is used in aromatherapy and is believed to have calming properties that reduce stress and help with sleep issues. Chamomile essential oil contains sesquiterpenes, terpenes lactones, acetylene derivatives, and polyphenols that contribute to fragrance. 
The name and genus Chamaemelum derive from the Greek word χαμαίμηλον (chamaimēlon) that means "earth-apple" because of the scent that was similar to apple. 
The sacred number of Roman Chamomile is 26.