Nettle Meaning, Healing, and Magical Uses

Welcome to the Masters' Grimoire of Magical Herbs page for Nettle. Here you will learn everything you've ever wanted to know about this herb including Nettle's magical uses, Nettle physical healing, and emotional healing properties, plus its use in meditation, Nettle lore and legends, and much more!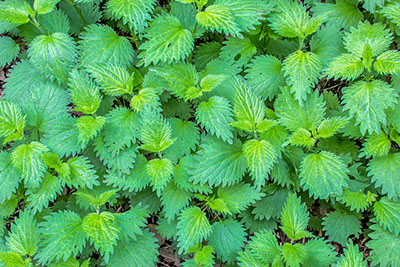 When you graze against the brush while on a hike or foraging in the woods, feeling an instant and painful prick on your bare skin, it is probably nettle- infamously defined by its microscopic stinging hairs. Although this plant can be painful to the touch, it is one of the most popular healing plants used in folk medicine. Once those meddlesome hairs are removed, nettle can be used in food recipes, salves, balms, oils, and teas for treating inflamed muscles and joints, eczema, arthritis, gout, and anemia as well as helping with urinary tract infections. 
Stinging Nettle, scientifically known as Urtica dioica, has some lookalikes, so be aware of this when foraging for this medicinal healing herb. Three of the most common are wood nettle (Laportea canadensis), slender nettle (Uritica gracilis), and dwarf nettle (Urtica urens). Wood nettle differs from stinging nettle in that it has alternate leaves, slender nettle is defined by the fact that it has less stinging hairs, and dwarf nettle is smaller and more compact than the common nettle varieties. 
Also, when foraging for stinging nettle, remember to wear thick gardening gloves and use scissors to harvest. This will help you avoid the painful prick of the stinging nettle plant. When preparing nettle for medicinal use, hang leaves and stems to dry the herb. Once dried, nettle will no longer have its penetrating sting.
Nettles should not be eaten once they have flowered, but they can be cut back to produce young flowerless nettles. Remember to harvest before flowering. 
Can you believe that stinging nettle is often considered an invasive weed in many yards and gardens? Take advantage of its astounding healing abilities the next time you see it pop up in your yard or if you see it on the side of a roadway!
The Sacred Number of Nettle is 121.