Lavender Meaning, Healing, and Magical Uses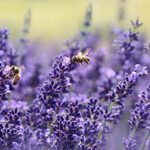 Welcome to the Masters' Grimoire of Magical Herbs page for Lavender. Here you will learn everything you've ever wanted to know about this herb including Lavender's magical uses, Lavender physical healing, and emotional healing properties, plus its use in meditation, Lavender lore and legends, and much more!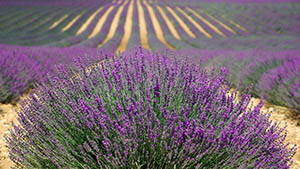 Lavender is probably one of the most popular herbs/flowers in the world. Lavender is known for its distinctly sweet, flowery aroma, which is calming and herbaceous. Like Rosemary, you can get a whiff of this plant's heavenly scent just by smelling the plant. It has been used for medicinal purposes for over 2,000 years and is a staple in natural healing, promoting calm, relaxation, and reducing stress. Lavender's plethora of uses range from flavored jellies to soaps, potpourri, candles, sachets, shampoos, and cleaning products. Many cosmetics, including bath and beauty products, contain the essential oils and dried flowers of the lavender plant. 
Lavender has a multitude of physical health benefits. According to integrative medicine specialist, Dr. Yufang Lin, "Lavender is known for its ability to calm the nervous system, lift the mood and even lower blood pressure. Research links lavender usage to less anxiety and depression." (1)  
Lavender is a part of the mint family and has many different varieties. The most common version, known as Lavandula angustifolia, is the variety that most people think of when it comes to traditional lavender. It produces aromatic purple, white, or blue flowers nearly all summer long and into autumn. The plant is a low-growing shrub with multiple stems and spikes of flowers and can grow almost weed-like in arid environments. Lavender, of the common variety, can be found in Europe, Africa, the Mediterranean, and parts of Asia.
The ancient Greeks called Lavender, nardus. It was given this name after the Syrian city of Naarda. The Greeks commonly called it, "Nard."
Some sources believe that lavender derived its name from the Latin 'lavare' meaning 'to wash", hence laundresses (women that wash clothing) being called 'lavenders' in the 14th century, however, some etymologists think this plant's name may come from the classical Latin adjective lividus, meaning bluish or livid.
 The Romans used this herb to scent their baths, beds, clothes and body.
Lavender's Sacred Number is 87
Notes from the Masters

I have always loved loved Lavender, particularly when trying to relax or get into the mood for sleeping. I often use a lavender scented lotion to calm my head and provide a sense of peace. I also keep a sachet of lavender at my bedside to enhance the sense of restful calm it provides.
~ Master Tess