Jasmine Meaning, Healing, and Magical Uses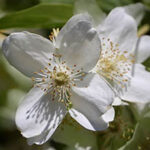 Welcome to the Masters' Grimoire of Magical Herbs page for Jasmine. Here you will learn everything you've ever wanted to know about this herb including Jasmine's magical uses, Jasmine physical healing, and emotional healing properties, plus its use in meditation, Jasmine lore and legends, and much more!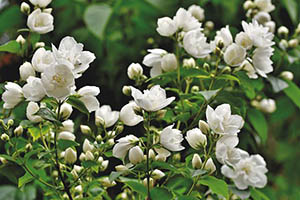 Jasmine is most definable by its flowery, musky scent floating in the air. You only have to follow your nose on a windy spring day to find a bushel or two. It may not be noticeable at first, blending in with the overgrowth around it, but once you spot its delicate white flowers, you know you have found it! Crushing one of its flowers in your hand will prove the source of the smell. It is instantly fragrant, its oils secreting instantaneously.
Jasmine can grow weed-like in warm, moist environments such as the southern United States. And, as a vining plant, you may find it climbing (either purposefully or organically) up trellises, fences, and even exterior walls. Known scientifically as Jasminum officinale, Jasmine is a part of Oleaceae, a family of small evergreen flowering trees and shrubs. There are close to 200 native species that can be found in Europe, Asia, the Polynesian Islands, New Zealand, and Australia. Several of these species include Star Jasmine, Arabic Jasmine, Prime Rose, Coral Jasmine, and Orange Jasmine.
Many botanists believe that Jasmine originated in Persia, or modern-day Iran, from where it traveled to places like the Egypt Afghanistan, and Pakistan. It even made its way across the Red Sea to Turkey and Greece. There is much speculation, however, that many of the species that we cultivate today originated in China and other parts of Asia. Due to its excellent adaptivity in warm, humid climates, Jasmine has become a native shrub in many subtropical environments around the globe.
Jasmine has a plethora of both physical and metaphysical properties that have been utilized for centuries including for weight loss, boosting the immune system, and having a restful sleep. The word jasmine comes from the word "Yasmin" which translates to "gift from God" and it was named because of it's amazing scent. It's also sometimes called the Queen of the Night.