Ginger Meaning, Healing, and Magical Uses

Welcome to the Masters' Grimoire of Magical Herbs page for Ginger. Here you will learn everything you've ever wanted to know about this herb including Ginger's magical uses,  Ginger physical healing, and emotional healing properties, plus its use in meditation, Ginger lore and legends, and much more!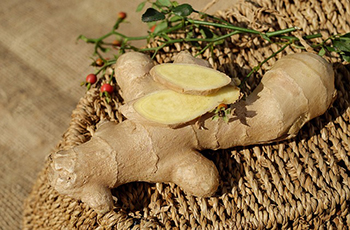 When most of us initially think of Ginger, we think of its strong peppery, sharply sweet aroma. Its texture is woody like most root plants and its taste is like a spicy citrus plant. A few shavings of ginger, with its extreme potency, is enough for any average person, and not commonly desired to chew on. However, you may consider adjusting to its sharp peppery flavor just because of its multitude of health benefits. Ginger has been proven to aid everything from nausea to high blood pressure and, once you get going down the rabbit hole of its health benefits, you may find yourself integrating it into your everyday health regimen
However, if the taste of pure ginger is too much for you, you might consider adding it to your cooking dishes. Ginger was originally grown in Southeast Asia, India, and China, making it a staple in many Asian cuisines, including Indian and Japanese. It is also used in many Caribbean dishes, having been introduced in Jamaica by the Spanish in the 1500s. Minced ginger is a welcome addition in fried rice and stir-fries, curries, marinades and glazes for meats, and vinaigrettes.
Ginger, in addition to its plethora of physical health benefits, has also had great significance in spiritual practices throughout the ages. Ginger is energetic and fiery and adds power to any magical activity. It is used in spells to "speed things up" or to cause plans to come to fruition quickly. It can also be used in spells to add passion to an existing relationship. (1)
Ginger, also known as Zingiber officinale, is a flowering plant closely related to turmeric and cardamom. The underground stem, or rhizome, of the ginger plant is commonly known as the ginger root. It is well-known for its medicinal properties. The health benefits of this root are well-documented . Ginger has been used across the globe as a natural remedy for thousands of years due to its medicinal properties. In fact, ancient Chinese, Roman, Greek, Arabic and Sanskrit texts have all documented the use of this root to improve health and well-being. The sacred number of Ginger is 13.