Dandelion Meaning, Healing, and Magical Uses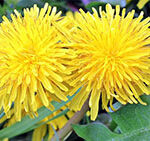 Welcome to the Masters' Grimoire of Magical Herbs page for Dandelion. Here you will learn everything you've ever wanted to know about this herb including Dandelion's magical uses, Dandelion physical healing, and emotional healing properties, plus its use in meditation, Dandelion lore and legends, and much more!
Introduction to Dandelion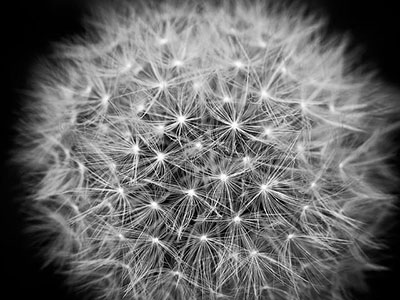 Dandelion is the common name for the herb Taraxacum. It is a large genus of flowering plants of the family Asteraceae. This genus is native to Eurasia and North America but the two most common species of dandelion was introduced into North America and Europe and now propagate as wildflowers. Both species are edible, both the flower and plant. 
The flower heads are yellow to orange in color and are open during the daytime and closed at night. The heads are on a single stem and is usually leafless. The stems and leaves rise from the sides of the main stem and exude white, milky latex when broken. The flowers mature into spherical seed heads called blowballs or clocks. These contain many single-seeded fruits called achenes. Each achene is attached to papas of fine hair-like material which enables wind-aided dispersal over long distances. 
Dandelion is a perennial, herbaceous plant native to temperate areas of the Northern Hemisphere. Dandelion have small flowers collected together into a composite flower head. Each single flower is a head called a floret. Due to their abundance, dandelions are one of the most vital early spring nectar sources for a wide host of pollinators. Many dandelion species produce seeds asexually without pollination, resulting in offspring that are genetically identical to the parent plant. 
Dandelion is completely edible, including the leaves, stems, flowers, and roots. Raw dandelion greens contain high amounts of vitamins A, C, and K and moderate amounts of calcium, potassium, iron, and manganese. Raw dandelion greens are 86% water, 95 carbohydrates, 3% protein, and 1% fat. A 100 gram amount supplies 45 calories. The raw flowers contain diverse phytochemical include polyphenols such as flavonoids apigenin, isoquerictirin, and caffein acid. The roots contain a substantial amount of prebiotic fiber inulin. Dandelion green contain lutein. 
The petals of dandelion are used along with citrus to make dandelion wine. The roots after being ground can be used as a caffeine-free coffee alternative. Dandelion was also traditionally used to make a traditional British soft drink called dandelion and burdock, one of the ingredients being root beer. 
Dandelion is also a source of natural rubber from the natural latex produced from its stems. Using modern cultivation methods develop in Germany, the Russian dandelion is suitable for current commercial production of natural rubber. The latex produced shows the same quality as natural rubber from rubber trees. 
The common name of Dandelion is from French "dent-de-lion" meaning "lion's tooth" and is also given to the specific members of the genus. The Latin name Taraxacum originates in medieval Arabic writings on pharmacy. The scientist Al-Razi around 900 CE wrote "the tarashaquq is like chicory" and the scientist and philosopher Ibn Sina around 1000 CE wrote a book chapter on Taraxacum. 
The English name dandelion is a corruption of the French. The plant is also known as a blowball, cankerworm, doon-head-clock, witch's gowan, milk witch, lion's tooth, yelllow-gowan, Irish daisy, monks-head, priest's-crown, and puff-ball. Other names include faceclock, pee-a-bed, wet-a-bed, swine's snout, white endive, and wild endive. 
In English the folk name "piss-a-bed" refers to the strong diuretic effect on the plant's roots. In northeast Italian dialects, the plant is known as "pisacan" or "dog pisses" because they are found at the side of pavements. In Swedish it is called "maskros" meaning "worm rose" after the insects that usually thrive inside the flowers. In Finnish and Estonian the names "voikuka" and "voilill" translate as "butter flower" due to the color of the flower. In Lithuanian, it is known "piene" meaning "milky" because of the white latex that is produced when the stems are cut. 
The Danish name "maelkebotte" means "milk bin" or the "the devils milk bin" and also refers to the milky latex and its ability to spread. Similarly, it is called "Maslacak" in Croatian which refers to clarified butter. The Welsh, German, Norwegian, Portuguese, and Spanish means the same as the French and English names. In Czech it is known as "pampeliska" where the "liska" part directly translates to "fox" possible due to the color. In Irish it is "caisearbhan" that derives from "curly-haired" and "oats". In Japanese it is "Tampopo".
The Sacred Number of Dandelion is 55.