Comfrey Meaning, Healing, and Magical Uses
Welcome to the Masters' Grimoire of Magical Herbs page for Comfrey. Here you will learn everything you've ever wanted to know about this herb including Comfrey's magical use, Comfrey physical healing, and emotional healing properties, plus its use in meditation, Comfrey lore and legends, and much more!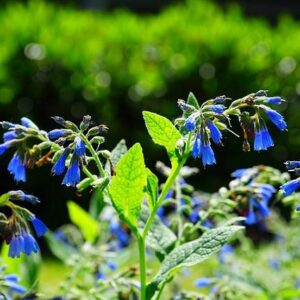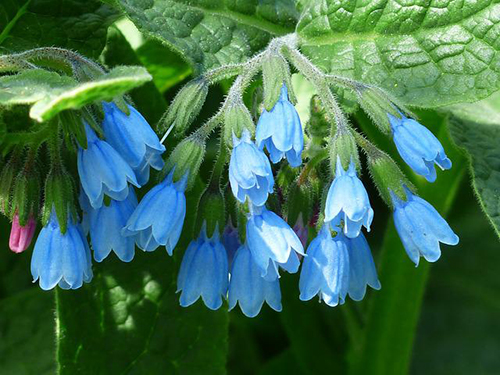 Comfrey is better known as Symphtum and is a genus of flowering plants in the borage family, Boraginaceae. There are up to 35 different species known by the common name of Comfrey. Some species and hybrids are used in gardening and herbal medicine. They are not to be confused with "wild comfrey" another member of the borage family. They typically have blue or blueish purple flowers. 
In folk medicine, names for comfrey include; knitbone, boneset, and the derivation of its Latin name Symphytum from the Greek name Symphis. The technical translation for this being 'growing together of bones' and 'a plant' referring to its ancient uses. Similarly, the French common name is consoled meaning 'to weld together.'  Traditions in different cultures and languages suggest a common belief for its usefulness mending bones. 
Comfrey contains mixed phtochemicals in varying amounts. These include allantoin, mucilage, saponins, tannins, pyrrolizidine alkaloids, and inulin, amongst others. Pyrrolizidine alkaloids are responsible for comfreys production of hepatotoxicity. Liver toxicity is associated with consuming comfrey or its extracts. In modern herbalism, comfrey is most commonly used topically. 
The United States Food and Drug Administration issued a ban of comfrey in products for internal use in 2001. The warning label for this herb was to be used for external use only. Comfrey is particularly contraindicated during pregnancy and lactation, in infants, and in people with liver, kidney, or vascular diseases.  The sacred number of Comfrey is 62.