Hawthorn Meaning, Healing, and Magical Uses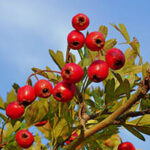 Welcome to the Masters' Grimoire of Magical Herbs page for Hawthorn. Here you will learn everything you've ever wanted to know about this herb including Hawthorn's magical uses, Hawthorn physical healing, and emotional healing properties, plus its use in meditation, Hawthorn lore and legends, and much more!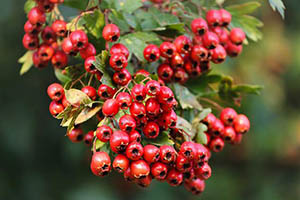 The technical name for Hawthorn is Crataegus. It is called Quickthorn, Thornapple, May-Tree, Whitethorn, Mayflower, Hawberry, and Fairy Bush. It is a genus of several hundred species of shrubs and tress in the Rosacaea family. The name Hawthorn was originally applied to the species native to Northern Europe, especially the common Hawthorn. Hawthorn usually has thorny branches. The most common type of bark is smooth and gray and develops in ridges on older trees. The thorns are small and sharp-tipped on branches that stem from the trunk. 
The leaves grow spirally on long shoots and clusters between branches and twigs. The fruit is red and berry-like but structurally a "pome" that contains five pyrenes that resemble stones of plums and peaches. This fruit is edible and is commonly used to make jelly or homemade wine. The young leaves and flower buds are also edible and are known as "bread and cheese" in rural England. 
The fruits of Mexican Hawthorn, also known as tejocotes, are rated raw, cooked, or made into jam for the winter. They are often stuffed into piñatas during pre-Christmas celebrations known as Las Posadas. They are also cooked with other fruits to make a punch. The paste of these fruits along with sugar and chili powder produce a popular Mexican candy called rielitos.
The name Crataegus is derived from the Greek word "kratos" which means strength. This is because of the great strength of the wood of the Hawthorn tree. It is also derived from the Greek word "akin" which means sharp. This refers to the sharp thorns on the branches. The name "haw" originally came from Old English for hedge and also applies to the fruit. 
It is estimated that are over 1000 recognized species of Hawthorn. This genus most likely appeared in the Eocene period and likely in Eastern North America and Europe. The earliest known leaves of the genus were from the Eocene of North America.
The Sacred Number of Hawthorn is 109.