Kuan Yin, Chinese Goddess of Mercy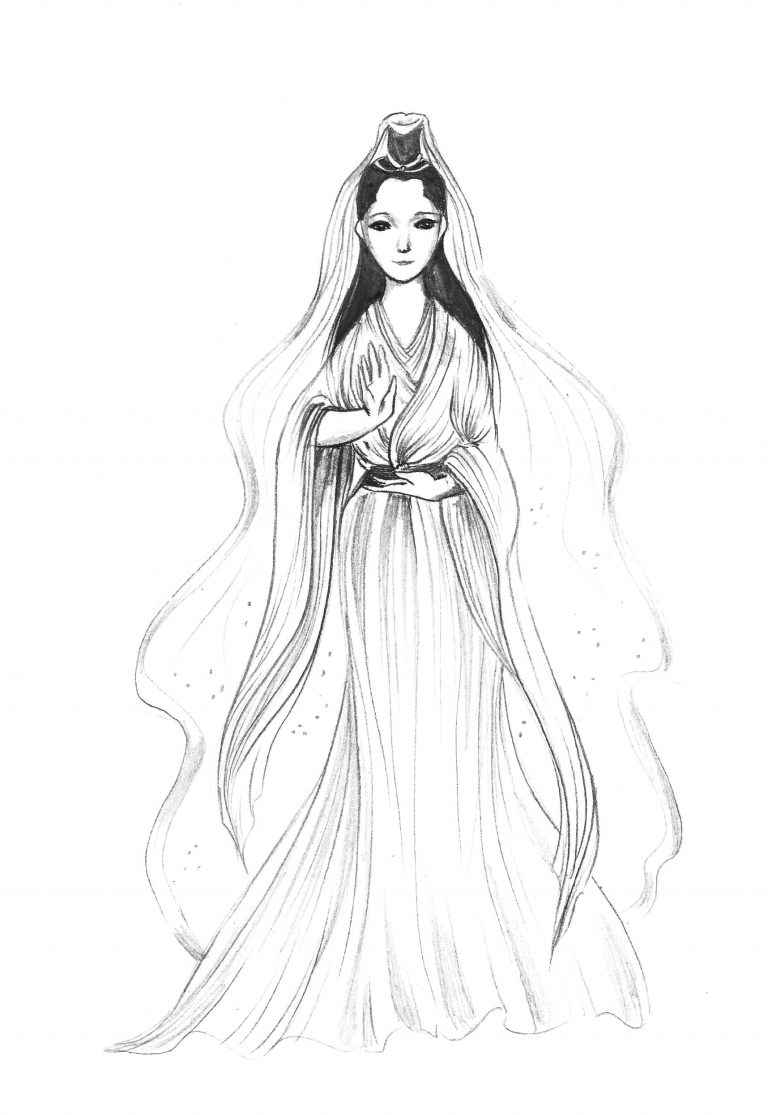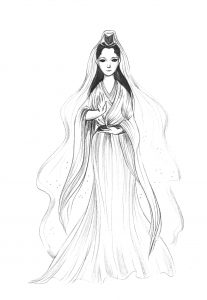 Shop for crystals to honor Kuan Yin
Kuan Yin, the Chinese Goddess of Mercy is a virgin goddess. She is a bodhisattva – an "enlightened one". She is revered today in many parts of the world as the Goddess of Unconditional Love, Compassion and Mercy. She is regarded by many as the protector of women and children. She is also a grantor of wishes, and in particular, a fertility goddess capable of granting children. She is the champion of the unfortunate, the sick, the disabled, the poor, and those in trouble. She is the most beloved of the Chinese goddesses.
In some Chinese legends, Kuan Yin was the saintly daughter of an evil ruler during the Zhou Dynasty. She wished to become a Buddhist nun, but her father refused it because he wanted her to get married and devote her life to marriage. When she refused, in some legends he had had her killed. Kuan Yin's soul went down to the underworld where her purity turned the place into paradise. The gods of the underworld didn't like how things were going so they asked the Buddha to take her away, and he restored her to life.
Before long her father was struck blind with the plague. Being utterly free from pride or vengefulness, Kuan Yin gave up her eyes so her father could see. He was so surprised by her selfless act that he then became a good person, and his act of this conversation made her whole again.
Kuan Yin, or Guan Yin means "She who harkens to the cries of the world". In some legends, Kuan Yin had the chance to go to Nirvana, but she decided to stay in this world to help god's children. Kuan Yin is considered by many to be a guardian angel to humankind.
She is worshipped as a Goddess of Mercy because she didn't take revenge on her father after he killed her, and she also gave him her eyesight. The lesson is that two wrongs don't make a right. She is teaching us the path to becoming more compassionate and loving.
Kuan Yin as the Goddess of Mercy is also viewed as a great healer. She can heal those sick in the heart and body. She is a protector of women, and is believed to be able to grant children to those women who desire them.
Many cultures honor the Goddess Kuan Yin. In venerating her we suggest the use of Jade, Pearl, Aquamarine, and Aventurine – and other traditional, beautiful gems of the East. An altar arrangement of lavender jade and freshwater pearls would be an excellent way to honor the Goddess of Compassion and bring her spirit into your life.
Shop for crystals to honor Kuan Yin
-words by Jessica Sitarik, age 12; art by conejovlanco user on Fiverr