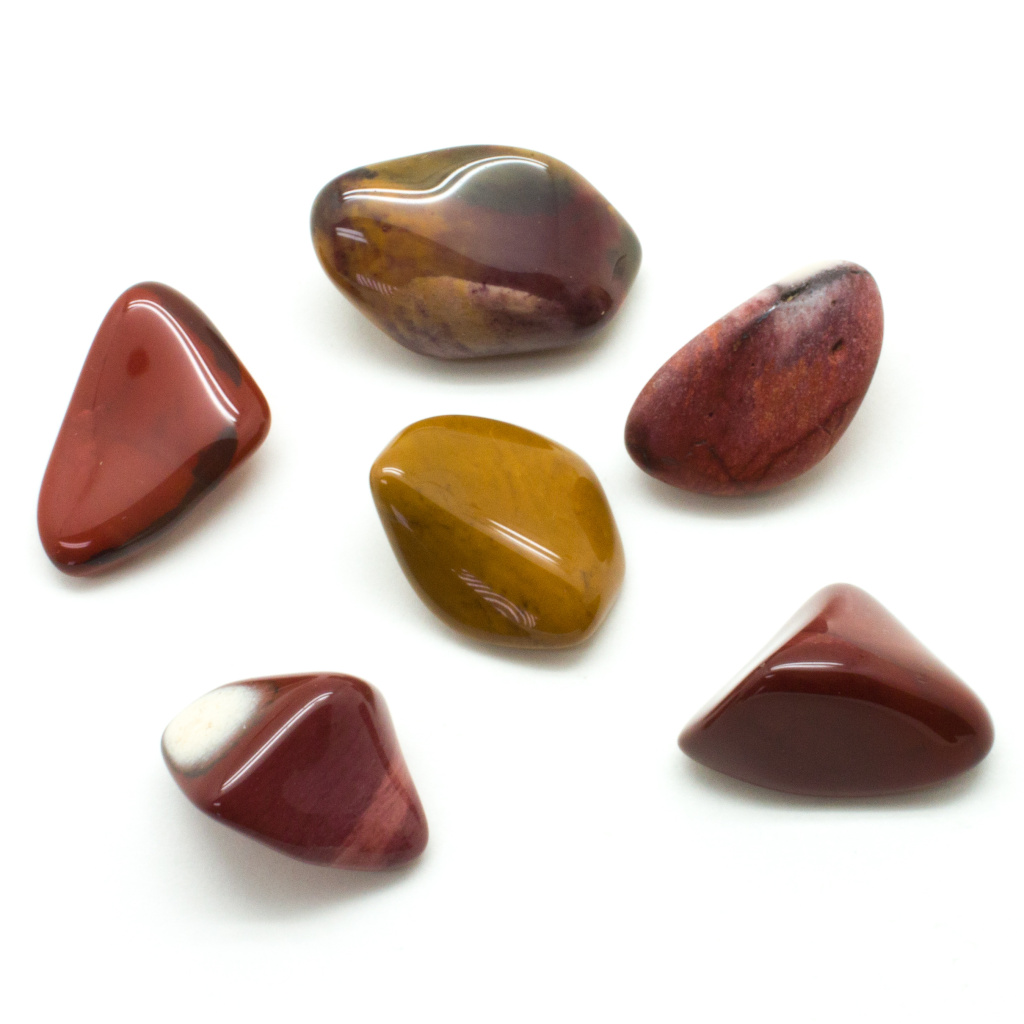 Today we want to introduce you to the stunning, colorful, and highly vibrational Mookaite Jasper.
Mookaite is an Australian Jasper of bold, earthy beauty with a fiery fusion of red and yellow energies. It carries an invigorating frequency of strength and vitality and increases Life Force within the physical body. An Aboriginal Mother Earth stone, it is gaining in popularity throughout the world for its healing capacity, and for empowering one to feel and connect with the electromagnetic energy currents of the Earth. It enables one to utilize these positive energies to increase one's will and focus on one's personal power. Mookaite promotes an ageless spirit willing to accept change and seek new experiences and awakens one's natural instincts in knowing the right direction to take.
Mookaite Jasper is found only in the Kennedy Ranges of Western Australia in outcroppings near Mooka Creek, the area for which it is named. The Aboriginal term "Mooka" means "running waters" and refers to the numerous springs that feed into this area. Mookaite was formed as the skeletal remains of radiolaria, microscopic protozoa with a hard silica shell were deposited over millennia as sediment in shallow areas of sea beds. As waters receded, the remains were solidified by additional silica carried in groundwater, along with minerals that produced its beautiful combinations of red, burgundy, mustard-yellow, cream, white, brown, mauve, and purple.
Mookaite is a wonderfully supportive stone for going beneath the surface of emotions to find core issues that are creating an emotional upset. It allows for a calm and stable frame of mind in which to examine and release these negative experiences and inspires confidence and the desire for new experiences. Mookaite makes it easier to accept change and to take a chance without fear. It encourages flexibility by prompting one to envision many possibilities in a situation and assists in choosing the right one
Mookaite Jasper is a physically stabilizing stone thought to boost the immune system and help counter the effects of aging. It is considered highly restorative for tissue deterioration of the internal organs, and useful in treating cystitis, high blood sugar, and disorders of the kidneys and bladder. It supports proper fluid intake and balances mineral content within the body.
Mookaite Jasper is a Seeker Transformer crystal. Seekers contain a crystal energy structure that aligns the natural energy of the crystal to the natural power of the human mind in finding the way to new horizons and new capabilities. They're pointers, directors, and compasses; the fresh start crystals. These are talismans of the scientist, the adventurer, the hunter, wanderer, and explorer. They're also crystals of the student and the researcher.
Transformer crystals enhance efforts to change our situations, prospects, health, outlook, or relationships. By transforming ourselves we transform our lives. We learn to dance, speak a new language, grow stronger, or become a better spouse or child. Seeker crystals with the earth power of the Transformer are excellent talismans to aid our efforts to grow, develop new capabilities, and change our lives.
Using Mookaite for Self-Power
The Australian Aborigines saw Mookaite Jasper as a stone of Mother Earth with deep earth energies and used it as a healing stone for bestowing strength and vitality.
Use Mookaite Jasper to connect with elemental Earth powers for increasing self-confidence, self-worth, and to realize one's full potential. Press a Mookaite palm stone against the upper stomach to activate the Solar Plexus Chakra, the seat of will and personal power.
Mookaite Jasper is an ideal tool for overcoming procrastination by revealing the true reason for avoiding certain tasks and bringing the motivation needed to resolve the issue. Its constant energy keeps one focused and well-grounded while soothing the mind and quieting distracting thoughts. It is great for focusing on a specific goal or for a motivational boost in the workplace.
Mookaite emanates the energy of animal knowing, or instinct, and may be used to amplify one's own instincts when making decisions, especially when there are conflicting factors to consider. Hold the stone close to receive a gut answer and go with it, even if circumstances suggest otherwise. Mookaite also brings assistance in "knowing" the right direction to take in physical and non-physical travel.
All Jaspers provide a calm, harmonious energy for meditation. They are ideal for grounding and centering at the beginning of a ritual, and ease the transition to a meditative state. Mookaite Jasper is particularly conducive to awakening one's true spirituality, and for increasing revelations and realizations during meditation. It supports alternate-life work and allows for clearing unhealthy patterns from one's genetic code.
Browse Our Mookaite Collection
Quick Facts About Mookaite
-Mookaite Jasper embraces the power of an ageless spirit, helping one to understand just how closely the mind and body work together.
-Mookaite imparts the knowledge that change is possible.
-This mineral is also thought to assist in reproduction and aid the body during pregnancy.
-Mookaite activates the deeper aspects of the mind by allowing access to genetic memory.
-Mookaite Jasper is soothing for the digestive system by reducing stress and may be used as a gem elixir because it does not over stimulate the body.
-Mookaite can greatly reduce the process of physical aging while keeping one young in spirit.
-An ideal stone for expectant parents, as it can facilitate intuitive communication with their unborn child.
-Mookaite Jasper brings a self-confidence built on fearlessness.