What is new at the Crystal Vaults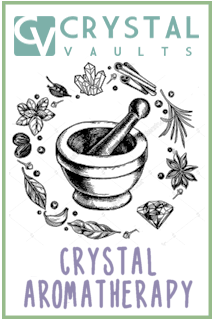 20 December 2017. We are very pleased to share with you a new, exciting, and effective natural healing regimen that is both safe and potent.
The Ancient art of crystal healing and the new discoveries of the healing energies of essential oils are now being combined in a new and exciting healing approach called crystal aromatherapy.
In crystal aromatherapy, highly effective, potent combinations of crystalline energies are being integrated with the aromatic healing energies of essential oils. The results are dramatic, as the healing energies of both the mineral and plant kingdoms synergistically enhance each other.
Imagine — a family healing aromatherapy diffuser emitting a pleasing scent that brings the dark orange ray of "belonging" from beautiful Creedite, the energy of "cohesiveness" from dendritic agate, and the power of "brotherhood" from beautiful Amazonite and combines them with the healing elements of "trust" from the essential oil of sage and the energy of "communication" from pure lemon oil. This is the magic of crystal aromatherapy.
It is now available to you - from the crystal aromatherapist of EarthSong Studios here at the Crystal Vaults.