What is new at the Crystal Vaults



April 23, 2015
We have many new Crystal Earth Pendulums, Pendants, Rings, and more available now! Click here to view Crystal Earth Gallery and all available products. Many unique designs and stones to choose from.
April 6, 2016
Recently posted Pyrite Cubes on Natural Matrix from Spain! Click here to see the most recent collection. Hope you enjoy! Check back soon for more new product releases.
April 5, 2016
We are beginning to process all of our finds from our Tuscon, AZ buying trip. Be sure to check out our new Blue Lace Agate Display Specimens - posted now. We only have a very limited supply so pick yours while you can! Keep an eye on this page to find all recently posted items and collections.
Click Here to view available Blue Lace Agate Specimens
April 24, 2015
April 22, 2015
Crystal Vaults is celebrating Earth Day by giving you 20% off today only! This is us saying thanks to Earth for creating such beautiful crystals. Code: thanksearth
April 21, 2015
April 20, 2015
March 30, 2015
March 10, 2015
March 8, 2015
February 25, 2015
February 19, 2015
January 31, 2015
January 23, 2015
January 11, 2015
December 15, 2014
December 14, 2014
November 25, 2014
November 16, 2014
November 11, 2014
November 5, 2014
October 24, 2014
September, 2014
We have begun publishing "Crystals Today." It is a free daily newspaper that brings you all the metaphysical crystal news from across the Web. Learn what is going on, see new products, and meet new crystal friends. Updated daily....

August, 2014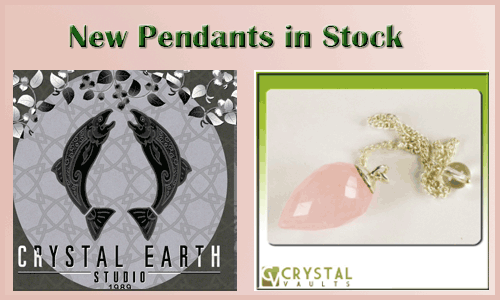 Enjoy