Sale!
Set of 4 Quart size Vanilla Ice Tea bags
The Emerald Leaf Exclusive
Now 40% off
Vanilla Ice combines robust organic black tea with carob and rounded vanilla essence. 
Ingredients: 
Organic black tea, organic carob, natural flavor and organic stevia
Taste:
Davidson's Vanilla Ice is a smooth black tea brew with a creamy finish.
This product is vegan.
20% Organic Content
Out of stock
Brewing:
Bring fresh water to a boil.
Add one brew bag to one quart of water in a heat-proof container.
Allow the brew bag to steep for 5-7 minutes.
Remove the brew bag and strain the tea into a serving pitcher
Allow infusion to cool to room temperature.
Serve over ice or chill in a refrigerator.
OR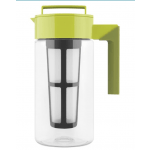 Get one of these Takeya Iced Tea Maker with Patented Flash Chill Technology and make it fast and good
Note: Discard unused iced tea after 48 hours.
Proportions:
1 brew bag to 1 quart of water (serves 4 people)
4 brew bags to 1 gallon of water (serves 16 people)
Note: For each additional gallon, add another 4 brew bags.