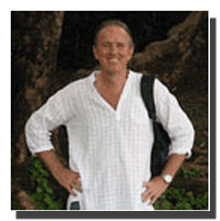 The Crystal Vaults proudly offers the work of Steve Wood, a Geologist - Craftsman - Central Designer, of Crystal Earth Studio, an intimate design studio.
The business opened in 1989 and actually started off as a stained glass studio and jewelry shop. Steve traveled back roads visiting shops and sold his product from a back of a car at shows.
With much success, he now has two stores, one is in cyberspace incorporated in Reno, Nevada, while the other is in Central India, where Steve currently resides. Steve and a few friends, whom are temple carvers, teamed up to make a shop that supports many families and residences.
With the help from his team, Steve thoughtfully takes symbolic designs and creates wearable jewelry from the highest quality crystals and other needed materials. They often take requests for new designs and enjoy hearing your feedback. You have a voice, and they want to hear it.
Steve's line includes gorgeous rings, bracelets, earrings, pendants, and pendulums. You will find that his products are the finest pieces of jewelry around.

The story told by Steve Wood:
"After I finished my stint in "Corporate America" and did my time in the back to land movement and as a sailor, I realized all my kids were gone and there I was looking at the second half of my life (assuming I live to 100) so I asked myself where was I happy and the answer was among the madness and the dirt of India.
So I packed everything up and moved there. . and revisited friends from my spiritual wanders days, when I had lived there, studying in an ashram.
Some of my Indian friends were temple carvers and same as the rest of the world the Chinese were actually starting to sell temple carvings to India (wow eh!) cheaper than the Indians could make them themselves!
My friends were the high end of this market carving directly in silver but their livelihood was threatened as well, so I started working with them designing and selling the Jewelry they make for me. .
There is a loveliness and innocence to these people!. . who don't need a reason to be happy and are
basically only unhappy when they have a good reason . . this struck me deeply . . my workers are mostly Bengalis and are dedicated workers and come from a strong tradition of hand worker families, who have done this work for generations and now because of you are able to continue supporting their families with dignity.
I operate a simple pension scheme with them where if they work with me for 10 years they have a cash payout that allows them to return to their village, buy a house and a small business and raise their family with dignity. . it is a small thing but not if you don't have it. . this and the support I give to the village where they work supports many families and keeps this skill set alive.
The time is long past where I could make jewelry in North America but as I watch these people work, I have a deep sense of satisfaction knowing that their art and their skill is being kept alive by your kind support in buying their work.
Myself I feel like I have just started and there are so many images and symbols just begging to be made into wearable jewelry because this is another passion of mine creating bridges to keep the deeper mysteries alive by creating wearable and beautiful jewelry using the symbols. .
This is a mission that will undoubtedly fill up the rest of my life and I feel honored to be part of the group who make up Crystal Earth Studio."