Welcome to EarthSong Studios, wondering what is here?
You have found a gallery of rare, exotic, magical, and energetic cabochons made by hand here in the USA.
Want to see them?
We do have a word of caution. Please note that we only show the items we have for sale. And all are one-of-a-kind.
We suggest that if a stone seems pleasing to you, buy it. We offer unconditional money back satisfaction if you are unhappy with a purchase. But don't wait on these, they sell quickly, and once a stone is sold, it is gone.
What is a cabochon?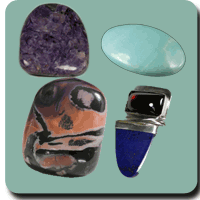 Well, it is a piece of art made from from a single rock or crystal. To be clear, a cabochon is a cut and polished slice of a natural rock or mineral. They are usually flat on the back and domed on the top.
What are cabochons used for?
Cabochons are mostly used by designers and jewelry makers to incorporate into jewelry, particularly pendants and necklaces. But many people collect them for their beauty. Crystal healers use them in their healing practices. They are commonly used for their chakra clearing energies. Properly prepared, they are often very potent healing crystals.
What kind of stones and crystals are made into cabochons?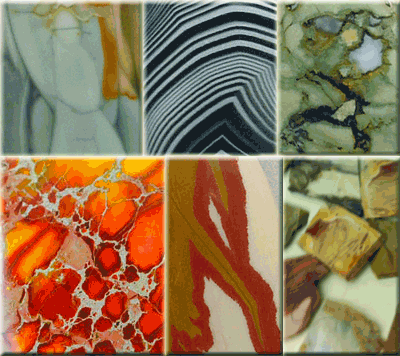 The cabochons here are mostly crafted from various agates and jaspers. The world of agates and jaspers is fascinating, and ever changing.
There are literally hundreds of different kinds as people find new sources, and others are mined out.
Beautiful rocks will appear and disappear from the market quite suddenly.
We strive to find the absolute finest materials - with both beauty and energy, and bring them to you.
All the cabochons here are one of a kind -- every rock is different, and each brings it song to the world.
What is the EarthSong Gallery?
It is a gallery of the work of a group of artists that seek to find the "song of the stone." Let us explain: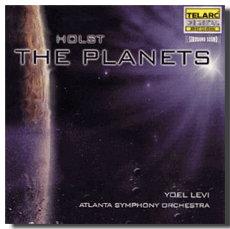 Gustov Holst wrote "The Planets" in which he gave voice in music to the haunting, inspiring, and mysterious energies of our solar system.
For example, he gave Venus has an unmistakable air of remote calm. Utter placidness prevails. It is quite lovely, and the fact that it follows violent and thunderous Mars only goes to highlight this further.
Holst interpreted each planet - and gave it's energy and magic to us in music.
But did you know - Holst's symphonic masterpiece did not include an Earth song? The other planets are given voice; but Earth is silent.
EarthSong Artist
He hears the song of the stones,
And the rhythms of the rocks.
He chips away the noise
And then takes stock.
Is the cut aligned
With the shape of the song?
Does the pattern give voice;
Or is it wrong?
Sometimes the design
Is fitting and true
And other time
It just won't do.
So he listens intently
As he works on his art.
Using his eyes and ears
But mostly his heart.
Now the polishing's done.
The song given form
In patterns and shape,
And beauty is born.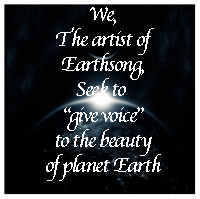 We, the artists of EarthSong, seek to "give voice" to the haunting, inspiring, and mysterious energies of the planet Earth. We seek, in a way, to fill the void Holst left.
We seek to find the magic, the beauty, the harmony, and the energy of this planet in its rocks and minerals, and bring them to you.
But we are artists of an different ilk. We find harmony in the hues, lyrics in the lines, melody in the form, and timbre in the subtle patterns and flow of colors in the Earth's rocks and minerals.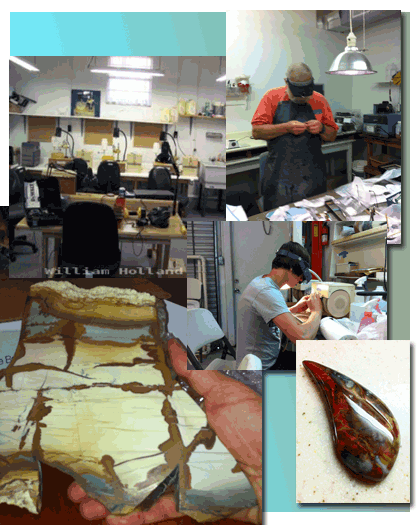 We are Lapidary artists; not composers.
We interpret the "songs of the Earth's stones" through visual means.
We do not work with pen and ink to produce music you hear when it is played.
We work with grinders and polishers and produce music you can see.
We did not attend music academies or conservatories.
Instead, we are graduates of the William Holland School of Lapidary Arts. We use that training to bring you the beauty of the stones and focus their energies for your use.
It is our way to "give voice" to the beauty of planet Earth; and in our way, to finish Holst's masterpiece.
Please enjoy the wonders that the Earth has produced (OK we helped Mother Nature a bit with some shaping and polishing).
-- The artists at EarthSong