The Crystal Index
An alphabetical listing of the uses to which crystals can be put
with each accompanied by
a discussion of which crystals are appropriate,
and references to the source authority.
The minerals of Mother Earth are rich in power and magic. They have a long history of helping us focus our thoughts and prayers.
Through their ability to focus and amplify our power of concentration, they have found a valuable place in the practices of meditation and ritual.
The use of minerals and crystals to help us deal with our human problems has a long history in many cultures.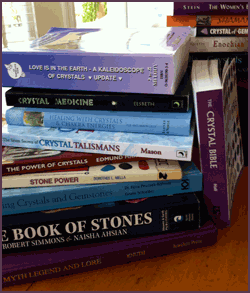 This index is "the back of all the crystal books. " It truly is an index. It cross references much of the writing about crystals and gives you a way to find exactly what you are seeking help with.
For example, if you are seeking a crystal to find romance, you just click on "R" and you are taken to the "R" page where you will find the entry for "Romance."
There the listing tells you what crystals you might consider. You don't have to go page by page through a library of crystal books, or scour Web sites. It is all collected here to save you the research.
The index takes two approaches.
First it presents both historical and modern writers' opinions and beliefs. Sometimes many writers agree; often there are significant differences in beliefs. Be aware there is no real right or wrong crystals for your use, except the right one is the one that works for you.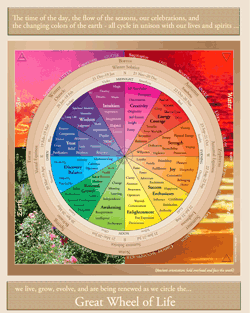 Next this index tells you the color of crystals you might consider for a given use. This guidance is based on the meaning of colored crystals in their harmony with the natural cycles of life on earth that is explained in much more detail here. We have found that crystals of certain colors share attributes and energy. Our mind relates to them in similar ways, and they communicate and energize us in very similar ways. So the consistency is in the power of the color rays to influence and focus our thoughts and amplify our energies. Our cycles, needs, and patterns are natural and are in tune with the natural world. This is depicted and explained in the Color Wheel of Life.
The index will point you in the right direction. You choose your path and crystal. We just offer a guide here.
(Now as a note, for ease in reading, author's names are used in the discussions. You will find a complete bibliography and links to the cited books here.)