Crystals For Artistic Inspiration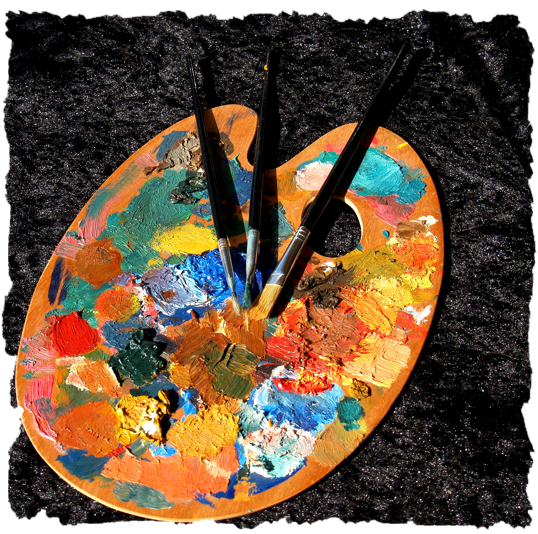 Inspiration can strike us at any moment. We could be in the shower, watching a public speaker, or lying in bed. Sometimes though, the inspiration doesn't come or manifest in the ways we wish it would. When you are an artist this can be especially difficult. In any artistic avenue whether it be writing, painting, singing, sculpting, etc. inspiration is usually the first step. So what happens when that first step seems so far away? You may not be surprised to learn that crystals can help you along your artistic journey. They can serve as inspiration, muses, and give you just the boost you need to become inspired again and make beautiful creations.
If you have studied anything about healing crystals, even just a little bit, you may know that amethyst colored crystals are usually known as the artist's stone. Amethyst is the red-violet ray that connects both time and color. It leads from the old year to the new and connects the red end of the visible spectrum to the violet at the other end of our perception. This potent, powerful color brings things together, wraps them around, and solidifies them. It connects beginnings to ends, joins life to new life, and makes the great circle of life complete once again. It captures the dying rays of the sun, and sends the message that winter is arriving.
Use Amethyst Crystals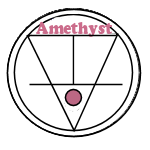 Amethyst Colored Crystals Bring You Creativity, Perception, Self-Knowledge, and Insight
Pure amethyst is the color of creativity. As the world begins to cycle through a time of renewal once again, creating the means for the rapid growth of the new spring, we too prepare for new creations by allowing a quiet time of reflection and insight. Amethyst rays are particularly helpful in artistic endeavors in which new, original results need to be created using the tools and methods of previous times. Amethyst-colored crystals include the Artist's Stone, the Composer's Stone, the Inventor's Stone, the Poet's Stone, and the Painter's Stone. They bring the natural power of creativity to us. They help us visualize, create, and invent. They stimulate our creativity.
There wouldn't be a crystal better for artistic inspiration than Amethyst crystal itself. Amethyst's ability to expand the higher mind also enhances one's creativity and passion. It strengthens the imagination and intuition, and refines the thinking processes. It helps in the assimilation of new ideas, putting thought into action, and brings projects to fruition. It is a talisman of focus and success. Amethyst is a wonderful talisman for use in the creative arts, especially in darker shades. It assists endeavors where new, original results need to be created using tools and methods of the past. It is often used as the Artist's Stone, the Composer's Stone, the Inventor's, Poet's and Painter's Stones. Keep an Amethyst crystal or cluster in the area to focus and amplify the creative elements of the Universal Life Force.
Another similar crystal that shares parts of Amethyst that may be even better than just Amethyst alone is called Cacoxenite in Amethyst. Cacoxenite in Amethyst is a calming and grounding stone to use in times of emotional upheaval. It is particularly suited to the creative individuals. The combination of Cacoxenite and Amethyst brings a high level of creativity and new ideas to humanity by fostering thoughts that have never been thought of before. It is a calming stone and raises spiritual awareness of the creator essence in the beauty of nature and the kindness in people. Carry on the night of the crescent and full moon to transfer healing energy to the Earth and create an ethereal connection between all of the universe.
Amethyst

Amethysts are particularly helpful in artistic endeavors in which new, original results need to be created using the tools and methods of previous times. Amethyst brings the natural power of creativity to us. It helps us visualize, create, and invent. Amethyst stimulates your creativity.




Cacoxenite

Cacoxenite is a Seeker Buffer Crystal. Seeker Buffers are talismans used when the desire is to find a way to transform a part of one's life to a more calm and balanced state. When you need to be inspired, to be able to create in an artistic way, use an amethyst with Cacoxenite crystal to focus and energize your creativity.
What Authors Say About Crystals

Celestite

Judy Hall suggests Celestite which offers a gentle, uplifting energy which can raise and expand one's awareness into the higher realms.

Celestite is a creative stone, especially useful for the arts. It calms and sharpens the mind, dispersing worry, and promoting mental clarity. It aids the analysis of complex ideas.

Moss Agate

Michael Gienger recommends Moss Agate which encourages a sense of reality and pragmatic thinking.

Moss agate liberates us from spirtual fetters and blocks. It encourages new initiatives after long periods of hesitation or holding back. Moss agate bestows inspiration and makes it possible to begin anew again and again.

Magnesite

Robert Simmons advocates Magnesite which facilitates an enhanced clarity of thought and awareness.

Capacities for abstract thinking, image-making and intuitive awareness seem to sharpen under the influence of Magnesite. Imaginative creativity, as exemplified in painting, sculpture, or poetry, is also enhanced by the presence of the currents of Magnesite.

I truly believe that creativity is inside of every single person. Everyone can be an artist in their own way, with their own medium, and may not even know it. For whatever your artistic endevors are, we all at some point need a little inspiration. When looking to gain some artistic inspiration, we suggest using amethyst colored crystals. In particular we recommend using Amethyst and Cacoxenite in Amethyst to give your creativity and inspiration and needed boost. You can also try crystals that other authors suggest such as Celestite, Moss Agate, and Magnesite.

Stones of the New Consciousness


Stones of the New Consciousness
Simmons, Robert
(Berkely, CA:
(North Atlantic Books 2009)

Crystal Power, Crystal Healing


Crystal Power, Crystal Healing
Gienger, Michael
(United Kingdom:
Blanford 1998)

The Crystal Bible


The Crystal Bible
Hall, Judy
(Cincinnati, OH:
Walking Stick Press, 2003)