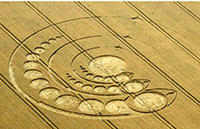 A crop circle is a sizable pattern created by the flattening of a crop such as wheat, barley, rye, maize, or rapeseed. Crop circles are also referred to as crop formations, because they are not always circular in shape. The documented cases have substantially increased from the 1970s to current times.

Twenty-six countries reported approximately 10,000 crop circles in the last third of the 20th century; 90% of those were located in southern England. Many of the formations appearing in that area are positioned near ancient monuments, such as Stonehenge.
Archaeological remains can cause crop marks in the fields, in the shapes of circles and squares, but they do not appear overnight and they are always in the same places every year.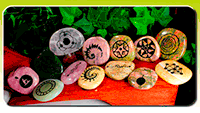 Theses Crop Rocks are highly polished stones of various kinds. Each is deeply engraved with a crop circle design which is then filled with black paint to bring out the design.
All the stones are different and the designs are engraved on different minerals. So there is no telling which stone a particular design is engraved on.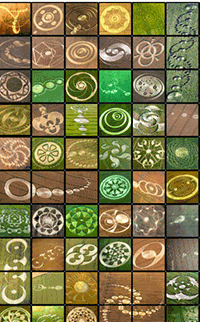 ORIGINS AND MEANINGS
We do not know the origin of crop circles. Some say they are man-made, some say they are alien messages. We do know that some of them have been carved into these stones.
WE DO KNOW WHAT THEY MEAN
We have studied these circles. We have consulted the ancient texts and researched lore and legends. We bring you the results of our research and insights. That knowledge is now yours! Find a stone with the circle design that brings you what you need in your life.